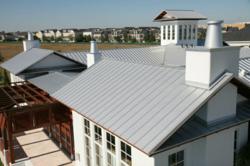 After Craig installed my new metal roof, I saw my utility bill drop dramatically! Thank you Premier Roofing! I can now live in comfort!" – John Hambone in Orlando
(PRWEB) July 02, 2013
Summer time is in full swing and in certain parts of the country the heat has really been cranked up. As the hum of AC compressors sing in unison throughout the United States many homeowners are seeking out effective ways to decrease their energy bills as much as possible. This is why Premier Roofing, Ltd. in Orlando Florida wants Florida residents to know all about standing seam metal roofing and how it can help reduce energy bills by as much as 25 percent.
A roof can account for almost 33 percent of the heat that enters a building depending on the material it is built out of. Black tar asphalt and shingles absorb lots of heat and retain it within the walls of homes and businesses making it very costly to use fans, air conditioning, and other means to get relief. Premier Roofing, Ltd. has been in the roofing business for decades and has installed hundreds of energy-efficient standing metal seam roofs all over Florida. And right now, Premier Roofing, Ltd. is offering a hassle-free estimate that homeowners can use to help make the decision to switch to an energy saving metal roof for their home or business. Craig Anderson, Premier Roofing, Ltd.'s founder knows the roofing industry so well that he can precisely estimate the cost, time, and materials that will be needed to finish the job rapidly and efficiently.
Metal roofs save on energy costs by reflecting the suns rays back into the atmosphere rather than absorb them into the attic and structure raising the internal temperatures to unbearable levels. The metal roofs that Premier Roofing, Ltd. install is of the standing metal seam variety for a very important reason: corrosion resistance. When it rains outside, metal roofing that has flat seams (the place where the metal panels meet and join) can collect and retain rainwater, which in turn accelerates corrosion in these areas. This will ultimately lead to leaks in the roof of the structure and high repair costs. A standing metal seam roof utilizes a design that lifts the connecting seam above the level of the roof so that water cannot accumulate in these areas thus extending the life of the metal roof. Properly installed standing metal seam roofs in Orlando by Premier Roofing, Ltd. can last 50 or more years needing little maintenance as they are durable, dependable, and expertly manufactured.
Premier Roofing, Ltd. is located in Orlando, Florida and services all of central and south Florida year round. With more than 25 years in the business, founder Craig Anderson only employs the most experienced and dedicated crew members to install metal roofing because he knows that value and quality only come from experience. Call Craig today to find out how Premier Roofing, Ltd. can help lower energy costs by installing a beautiful, professional, and long lasting standing metal seam roof on a home or business in Florida.