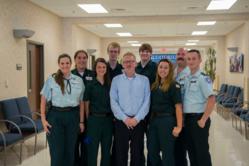 I know a lot of times as first responders you go unrecognized, but my gratitude and my life I owe to you guys and what you did.
(PRWEB) July 01, 2013
Last week, two months after suffering a heart attack at Festival International de Louisiane, Peter Barrilleaux was able to reunite with the members of the Acadian Ambulance team who helped save his life.
Barrilleaux didn't realize he was having a heart attack that night—he attributed the pain to a reaction to the crawfish etouffee he had for supper—but the situation rapidly escalated and Acadian paramedics, EMTs, and several members of their youth Explorers program quickly responded.
Hospitalized for several weeks, Peter had open heart surgery and five bypasses. He was also in a coma for over a week.
An emotional Barrilleaux reunited with Acadian Explorer Advisor and Paramedic Craig Hamilton, EMT Nick Olander, Paramedic Jamie Romero, and the five Explorers who assisted him—Erica Aucoin, Kayla Duhon, Steven Young, Adrien Bonin, and Ryan Boudreaux—at Acadian's North University campus. Moved to tears, he repeatedly called them his "angels" and thanked them for their service.
"It was important for me to meet you guys. I know a lot of times as first responders you go unrecognized, but my gratitude and my life I owe to you guys and what you did," he said. "I can't express that enough."
Acadian Explorer Steven Young noted how infrequently medics get to see their patients again, and said, "It's a rare opportunity to meet someone that you've helped, but it's a great feeling when it happens."
Since 1971, Acadian has provided the highest level of emergency medical care and transportation possible. In the past decade, the company has expanded to include a diverse suite of services in health, safety, and transportation. Acadian's six divisions are Acadian Ambulance Service, Acadian Monitoring Services, Air Med, Executive Aircraft Charter Service, National EMS Academy and Safety Management Systems.
###