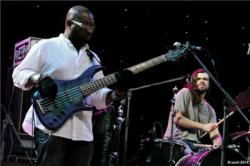 By tradition, the festival will start with a jazz parade led by Igor Butman in the Riviera Park on August, 1.
(PRWEB) July 01, 2013
From August, 1 to 4, as part of the Sochi 2014 Cultural Olympiad, the "Aquajazz" Sochi Jazz Festival will take place. The event will include prominent jazz musicians from Russia and the United States.
The headliners this year include the trombonist Delfeayo Marsalis quintet and world-famous vocal group and winner of 10 Grammy Awards Take 6. The best Russian jazz bands from across the country will come to Sochi including Ural Dixieland, Sergey Korenev Project, Philharmonic Jazz Orchestra of the Republic of Tatarstan under the direction of A. Vasilevskiy, Visit jazz orchestra, the Adam Teratsuyan Septet, Sochi Big Band and Sergey Pron's ProJazz group.
Other participants at the festival include the star of the Russian TV show "The Voice" Polina Zizak, plus well-known trumpet players, saxophonists and pianists.
By tradition, the festival will start with a jazz parade led by Igor Butman in the Riviera Park on August, 1. On August, 2 and 4 on stage of the Zimny theater, chamber concerts will take place, and on August, 3, a gala concert entitled "Igor Butman and the future of jazz" will be staged in the Festival Concert Hall. Recognized young talents will for the first time come together on one stage to perform in a musical team representing the new generation. At the end of the evening, the combined Moscow Jazz Orchestra under the direction of Igor Butman will play a fiery jam session.
Notes to the Editor
The Sochi 2014 Cultural Olympiad
2013 – The Year of the Museum
The fourth year of the Sochi 2014 Cultural Olympiad is devoted to museums. As always, the organizers of the first Winter Games in the history of Russia will present the public with hundreds of the best cultural events. These include dozens of exhibitions, shows, competitions, festivals, and special exhibitions, as well as forums, workshops and educational programs that will be held throughout the country.
The Sochi 2014 Cultural Olympiad is a unique project held by the organizers of the Games, offering the best cultural events in the country. In 2014, visitors to the Olympic host city will be able to admire not only the sports competitions, but also Russia's cultural diversity at dozens of special sites located in Sochi and Krasnaya Polyana. Since 2010, the Sochi 2014 Organizing Committee, along with dozens of regions throughout the country, has been carefully selecting the best of Russian culture.
From 2010 to 2014, thousands of different cultural events will take place across the entire country. Each year the Cultural Olympiad is dedicated to a special kind of arts: 2010 was the Year of the Cinema, 2011 the Year of the Theater, 2012 the Year of Music, and 2013 is the Year of the Museum.
The national scale of the project will make it possible to involve every resident of the country in this grand celebration of music, maintaining and increasing the cultural riches of our country. Find out more about the events taking place as part of the Cultural Olympiad by clicking the following link: http://www.culture.sochi2014.com