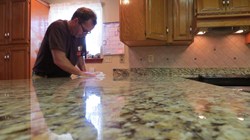 GNL Contractors Prioritizes Their Customers' Satisfaction!
Slidell, LA (PRWEB) July 13, 2013
A family-owned business, GNL Contractors stocks their own variety of marble and granite slabs imported from Brazil, India, Saudi Arabia, Finland, Italy, Spain, and many more countries. And, with the real estate market rising, it's important to stay up to speed on the trend and have granite or marble countertops installed in one's key feature rooms of a home: the kitchen and bathrooms. There are so many options of solid surfaces these days. Many homeowners and investors ask where to go to get reliable and high-quality craftsmenship for their granite, marble, or travertine countertops. The Slidell local area has a well-kept secret in GNL Contractors, Inc. Homeowners can visit their facility and hand pick their own slabs which hold unique patterns never again duplicated by mother nature. Granite has been the optimal choice for elegance, durability, and efficiency. Granite has a melting temperature of close to 5000 degrees Fahrenheit, so no worries on leaving hot pans on the surface. Also, with a density of about 18 lbs. per square foot of 3cm thick material, granite is a very solid solution.
In honor of the July 4th holiday, GNL Contractors of Slidell, Louisiana, is launching a special offer that will be running from July 1 to July 31, 2013. Homeowners can now pick from 4 very desirable granite colors, and any of the standard edges(full bullnose, half bullnose, bevel, or eased edge), with either a free undermount stainless steel sink or a 15 year warranty on the sealer of their granite. Customers could opt for a high-quality stainless steel that is undermounted which means the outer rim of the sink is actually all granite countertop flush with the rest of the kitchen surface. Or, one can opt for the sealer warranty, which guarantees to keep the countertops nearly impenetrable with a product that is similar to a "scotchguard" for natural stone countertop surfaces. This is a feature which enables one to protect their stone countertop surfaces better as it delays setting and soaking time for liquids or chemicals should they spill on the countertops. The sealer allows for red wine spills to sit for hours before they are cleaned so they do not soak into the stone for example.
No matter which of the freebies one chooses, the best thing about the special is the price. At $32 per square foot which includes measuring, fabricating, installing the granite, and the granite itself, it will be tough to find a better deal for homeowners and investors. GNL allows their customers to also browse their slabs and when possible, pick them out themselves from their vast selection! GNL has special sources of granite from all over the world, Brazil, Italy, Turkey, and Finland, to name a few.
To see more granite, one can visit GNL Contractors large slab yard. To make sure that customers can take advantage of this great special, they must give the coupon code: "Patriot" when they call or walk in!
To learn more about GNL Contractors click here.