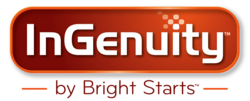 (PRWEB) July 03, 2013
The team at Ingenuity™ congratulates all the new dads who celebrated their first Father's Day. It's never too early to learn that the Washable Playard by Ingenuity is a good place for small children to stay safe while dad is relaxing, barbequing or playing catch with the older kids.
This year celebrity dads included Nick Lachey, Channing Tatum, Dax Shepard, Ron Livingston, Kanye West, and Bill Rancic, who all spent their first Father's Day with new additions to their families.
Father's Day in the United States is celebrated every third Sunday of June. On that day fathers and father figures are honored for the contribution they make to their children's lives. Father's Day was officially recognized as a holiday in 1972.
The Ingenuity Washable Playard with Dream Centre™ can make life easier for moms and dads, whether they just had their first child or their fifth. For one thing, there is less work. The playard can be easily taken apart so all fabric surfaces can be tossed in the washing machine.
The One Less Step™ folding feature allows for easy portability and storage. The lives of dads are made easier since the removal of the bassinet is not required to fold up the playard. This saves on time.
The playard also features an elevated changing table that easily pivots out of the way, wheels, a removable organizer tray, and the Soothing Sounds Center with five melodies and three nature sounds.
The Ingenuity Washable Playard is available at Babies "R" Us, a carrier of Kids II brands since 1992. Babies "R" Us has been an exclusive launch partner for a number of Kids II products, including the Bright Starts baby toy collection, Having a Ball™ and the mombo™ nursing pillow by Comfort & Harmony™.
Ingenuity is part of the Kids II brand family. The company designs, markets and distributes more than 400 unique baby and baby products, including products for some of the industry's most well-known brands. Babies "R" Us carries all seven brands, including Bright Starts™, Ingenuity™, Comfort & Harmony™, Disney Baby™, Baby Einstein™, Oball™ and Taggies™.
About Ingenuity™:
Ingenuity combines the latest innovations with on-trend styling and plush fabrics to create the most soothing and attractive baby gear offering possible. Each product is designed with smart solutions, technologies and features that make life with baby even more enjoyable and easier for parents. From a bouncer that bounces by itself, to a swing that runs on one set of batteries for baby's first year, this brand of innovative gear products raises the bar on feature and fashion.
About Kids II®, Inc.
Kids II has been inventing and reinventing baby and baby toys and gear for more than 40 years and has quickly become one of the world's fastest growing baby product companies. Headquartered in Atlanta, Kids II spans globally with operations in six continents serving customers in more than 70 countries. Driven by innovation, design and a comprehensive brand portfolio, Kids II is the next generation leader of baby and infant products.
Kids II designs, markets and distributes more than 400 unique baby and infant products, selling more than 22.8 million items per year. On average, it launches 125 new products a year. Under its flagship brands, Kids II has produced more than 100 award-winning products.
The brand portfolio strength runs deep under the Kids II umbrella, which includes its signature brands Bright Starts™, Ingenuity™ and Comfort & Harmony™, as well as licenses to design and manufacture products for Disney Baby™, Baby Einstein™, Oball™ and Taggies™.
Kids II's international affiliate operations are located in Australia, Canada, Europe, China, Hong Kong, Japan, Mexico and South Africa. Visit http://www.kidsii.com.