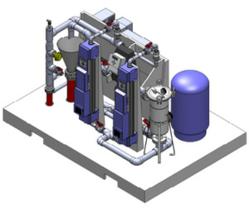 At Wahaso, we quickly realized the value of Geosyntec's services to the stormwater harvesting industry and our business, and we are excited to add their capabilities to our water harvesting solutions.
Hinsdale, IL (PRWEB) July 09, 2013
Many municipalities today are requiring property developers to manage stormwater run-off by installing storage tanks that temporarily hold (detain) rain event water to reduce the impact of stormwater volume on their municipal treatment systems. Normally these detention systems represent a "sunk cost" of hundreds of thousands of dollars from which the property owner will receive no direct benefit. Wahaso sees this stored stormwater as an asset rather than just a liability, and offers solutions that filter, sanitize and pressurize stormwater for on-site reuse in toilet flushing, landscape irrigation, cooling tower make-up and other non-potable uses. One system can save millions of gallons of municipal drinking water each year.
Municipalities that require stormwater detention raise a fundamental issue of turning stormwater detention into retention for reuse: If stormwater is retained in the cistern for reuse, there may not be sufficient detention capacity to meet the detention requirement for the next storm event, defeating the purpose of the detention capacity. That could mean that the developer would have to add redundant storage capacity for the retention portion, negating the benefit of leveraging the required detention for reuse.
In response to this issue, Wahaso's harvesting systems will integrate patent-pending control logic running on Geosyntec's OptiRTC platform, a broad suite of computing services that provide data monitoring and automated control solutions for green infrastructure and a wide range of environmental and industrial applications. OptiRTC will be used to dually optimize water reuse and storm event capture objectives by integrating real-time system data and meteorological forecasting to anticipate wet weather capture capacity required for detention at a given property. A remotely controlled automatic valve releases a calculated quantity of previously collected water to make sufficient detention volume available for each storm. The systems will serve as a key component of Wahaso's stormwater harvesting solutions and will be integrated into the hardware and platform connectivity of its control systems to maximize water savings for the property owner.
Wahaso President John R. Bauer believes that Geosyntec's OptiRTC platform will accelerate the growth of the commercial water harvesting industry. "At Wahaso, we quickly realized the value of Geosyntec's services to the stormwater harvesting industry and our business, and we are excited to add their capabilities to our water harvesting solutions," said Bauer. "The OptiRTC platform and related services by Geosyntec help us resolve the detention requirement in harvesting systems, so we can all benefit."
About Wahaso
Wahaso - Water Harvesting Solutions, is a design-build firm specializing in custom commercial systems for harvesting rainwater, greywater (graywater) and other on-site water sources for non-potable uses like toilet flushing, irrigation and evaporative cooling system make-up. Wahaso provides consulting and system design services to engineers and architects and then delivers systems that are preassembled and tested on skids for installation by local contractors. The company was founded in 2008 and has designed systems for nearly 400 projects in the US and Canada.
About Geosyntec Consultants
Geosyntec, founded in 1983, provides consulting engineering and science services throughout the United States and internationally. With more than 45 offices in the U.S. and select international locations, Geosyntec engineers and scientists are known for their technology leadership and practice innovation in the areas of urban stormwater management, water and natural resources management, geotechnical and geoenvironmental engineering, contaminated site assessment and remediation, groundwater assessment and remediation, risk assessment and toxicology, solid waste disposal facility permitting and design, and environmental biotechnology.