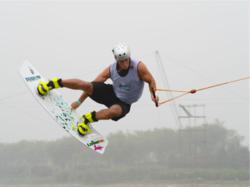 I'm stoked to make it into the #2 spot overall after last weekend.
Orlando, Florida (PRWEB) July 03, 2013
Austin Hair is a Living Fuel Champion and one of the top pro wakeboarders in the country. He just took 2nd place at the Pro Wakeboard Tour in Lathrop, California. That puts him in 2nd place overall for the tour so far this year with just two more events to go.
"I'm stoked to make it into the # 2 spot overall after last weekend," Austin Hair said. "There are only a few stops left, so I need to take it to another level and ride to the best of my ability."
Austin is a professional wakeboarder and one of only a few who compete in both Boat and cable wake boarding. He won the WWA Wakeskating World Championships in 2005 and came in 2nd at the IWWF World Championships in 2009. Austin's been competing on the Pro Tour since 2007 and was ranked 4th overall in both the Pro Wakeboard Tour and the WWA World Series by 2010. He was the 2012 AWA National champion in both Boat and cable wake boarding in 2012.
Austin makes his home in Orlando, Florida and has a degree in Digital Media, Interactive Systems from the University of Central Florida. In addition to competing, he also teaches wakeboarding, is an author and videographer, and provides monthly content for WakeWorld. Austin has also been featured on CBS Sports, ESPN, ESPN 2, Fox, and Fuel TV.
Austin is a big proponent for health and fitness and credits the maximum nutrition he gets from LivingFuel superfoods for giving him everything he needs for intense training and competitions around the world.
Austin said - "Living Fuel has made all the difference this year. I've had enough energy to compete in both boat and cable contests all over the world, and now I'm just one spot away from leading the tour. I love the fact that I can get almost all the nutrients I need for the day in a single meal. It's also perfect when I travel I can have a complete meal in a bottle anytime I want."
Austin is excited about the opportunities that are ahead for him this year. His next big competition is this weekend in Tampa (July 5-6) at the Red Bull Wake Open. It will also be broadcast on NBC Saturday, July 6th, beginning at 4pm.
About Living Fuel, Inc.
Living Fuel is the leader in superfood nutrition in purity, potency, quality and truth. The company's mission is to change lives with leading-edge, high-impact superfoods. LivingFuel quality products are meticulously designed with integrity and fresh, all-natural, organic ingredients whenever possible. For more information about Living Fuel or its products, visit http://www.livingfuel.com or contact the company directly at (866) 580-3835. In Canada, visit http://www.livingfuel.ca.
KC CRAICHY is Founder & CEO of Living Fuel – The Leader in Superfood Nutrition, and the best-selling author of "The Super Health Diet – The Last Diet You Will Ever Need!" and "Super Health - 7 Golden Keys to Unlock Lifelong Vitality." He is a health advocate and expert on natural health and performance nutrition. His extensive study of leading-edge health research and collaborative work with top medical and nutritional practitioners and researchers to solve his wife's health problems led him to the founding of Living Fuel, Inc. KC is committed to changing lives through nutritional and multi-media lifestyle education combined with leading-edge high impact superfoods. He also serves on the Clinical Nutrition Review Board (the certifying body of the International and American Association of Clinical Nutrition). KC lives in Orlando, Florida with his wife Monica and five children.