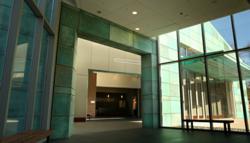 Research Triangle Park, North Carolina (PRWEB) July 02, 2013
It's no secret that the Research Triangle Park of North Carolina has been planning a global-scale redevelopment and that it has been looking for ideas.
Last year, RTP's staff went on a bus tour across the entire state, to listen – and to learn – from North Carolinians – and to ask the question, 'what great things can we do together?'And from location to location, from Boone to Fayetteville, they heard the same thing: that big ideas are needed.
But big ideas do not come easily; or quickly. And they do not manifest all on their own.
To help continue the conversation started on that bus tour – and to provide a platform for collecting the very best ideas for a shared future – the Research Triangle Park is hosting a series of special events, as part of a new "RTP ARCHIE" summit, at its headquarters building.
There, through speaker sessions and interactive exhibits, it will open the floor to all of North Carolina for input.
RTP's President and CEO Bob Geolas said, "You asked us to think of a big idea that would impact North Carolina and lift up all the great people of our state. Well, we have a big idea in ARCHIE -- but it's a puzzle still; we need your help to figure it out."
Invitations have been sent to government, corporate and community leaders, RTP-company employees, and the public at large.
Geolas added, "RTP was built by you. It still, very much, belongs to you, and you should have direct input into RTP's future. With ARCHIE, we want your ideas of what the redeveloped Park could look like. Please come speak with us. Share your thoughts. Your hopes. It is time for us to redevelop, reconnect and reimagine how we service North Carolina for the next 50 years."
Building on North Carolina's tremendous history to create a new place to bring people together, explore new ideas, create jobs, and keep our state moving forward, a variety of collaborative events are planned for the RTP ARCHIE summit:
● Design Workshop – Help us mold the future, literally. Draw and build versions of what the RTP-to-be could look like.
● Signature Speaker Sessions – RTP staffers will present upon the possibilities of the future.
● Interactive Exhibits – A digital and interactive showcase.
● The Chattery – Talk to us. Share ideas about what the future of RTP could be.
Geolas ended by saying, "We are excited to see who joins us in mid-July. The doors will be open – and we'll be waiting."
About the RTP ARCHIE Summit
Employees that work at RTP companies can RSVP here: http://rtpmasterplan.eventbrite.com.
Everyone else in North Carolina is invited as well. Please RSVP here: http://reimaginertp.eventbrite.com/.
News and updates from the RTP ARCHIE summit will be broadcasted on Twitter via @TheRTP and hashtagged #RTPARCHIE.
A special Instagram campaign will run on the handle "RTPARCHIE" – and it is through that medium that participants will be encouraged to share live photo and video footage during the event. The page can be accessed via browser by visiting: http://www.instagram.com/RTPARCHIE.
Those unable to attend the event can still follow along via footage livestreamed to http://www.youtube.com/TheRTPNC. Participation and idea submission is encouraged; input can be routed via http://www.rtp.org/RTPARCHIE.
About the Research Triangle Park
The Research Triangle Park has been called the heart and hope of North Carolina's industrial future. A top R&D, tech, life science and entrepreneurial destination, the Park is recognized as one of our nation's most iconic economic institutions.
Built in the 1950s in service to three research universities – Duke, NC State and UNC – and has been an engine for continued growth. Multinational companies such as IBM, Cisco, Syngenta, Bayer CropScience, The Hamner Institute, Avaya, Credit Suisse, Biogen Idec, GlaxoSmithKline, BASF, Stiefel, NetApp, Burroughs Wellcome Fund, BD Technologies, Sigma Xi, the North Carolina Biotechnology Center, and RTI International and thers call RTP home. Prosperity and success have become closely associated with the brand.
RTP is also home to a handful of incubators and accelerators for entrepreneurs and startups -- including First Flight Venture Center, Alexandria Innovations and the Park Research Center (PRC).
The Research Triangle Park also functions as something of a community hub, hosting several ongoing events, including "1 Million Cups," a program of the Kauffman Foundation, and "RTP 180" -- an in-house speaker series with a focus on the region at large.
Press Contact
Erin Monday
Email: monday(at)rtp(dot)org
Twitter: @TheRTP
Phone: 919-433-2017