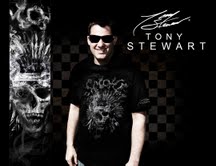 "Panic Switch Army is all about a full-throttle lifestyle. They share my passion for speed and adventure," Tony Steward said.
San Clemente, Calif. (PRWEB) July 03, 2013
Tony Stewart, the three-time NASCAR Sprint Cup Champion and driver of the No. 14 Bass Pro Shops/Mobil 1 Chevrolet for Stewart-Haas Racing has partnered with Panic Switch Army to debut a signature t-shirt design.
"My signature tee for Panic Switch Army features a unique design with a cutting-edge look my fans demand in their t-shirts and clothing," Stewart said.
Stewart is fresh off of a Sprint Cup points race win in Dover, Del. on June 2, 2013 for the FedEx 400. The win extended Stewart's streak of at least one win in each of the 15 seasons that he has competed in the NASCAR Sprint Cup Series, according to his latest standings. The triumph also marked his first victory of the 2013 season, his third at Dover and the 48th of his career.
"We are proud to partner with the racing legend, Tony Stewart, for a signature series t-shirt" said Panic Switch creator and CEO, Luke Burrett. "He's a legend on the track, a philanthropist and a driver our fans are drawn to."
In addition to his latest success on the track, Stewart boasts an incredible tally of championships. With three NASCAR Sprint Cup Series championships, one IROC Series championship, one IndyCar Series championship, four United States Auto Club (USAC) championships and three karting championships, Stewart's love for speed and achievement connects with the legion of Panic Switch Army soldiers.
"Panic Switch Army is all about a full-throttle lifestyle. They share my passion for speed and adventure," Steward said.
PSA fans can catch Stewart's next race on Wednesday, July 3, in Brandon, S.D., for the World of Outlaws STP Sprint Car Series at Husets Speedway. The Tony Stewart t-shirt is available for purchase at Panicswitcharmy.com.
About Panic Switch Army
Panic Switch Army, Southern California's new gasoline-fueled action sports apparel brand, founded by former Silver Star owners, Luke Burrett and Charis B., is inspired by extreme sports and music that caters to an adrenaline-charged lifestyle.