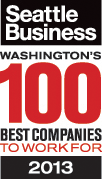 "We are honored to have received this award for the third year in a row," said CEO Matt Moeller.
Richland, WA (PRWEB) July 02, 2013
Seattle Business magazine has named Richland-based safety and environmental services firm Dade Moeller to its 2013list of the "100 Best Companies to Work For" in Washington.The company ranked 15th out of 20 "large companies," defined as firms with 100 or more Washington-based employees. This is the third consecutive year that Dade Moeller has been named to the magazine's list.
Seattle Business evaluated participating companies primarily based on employee responses to a detailed opinion survey rating 12 different categories. This is the second year that Dade Moeller's highest-scoring category was the company's "Work Environment." Seattle Business describes an outstanding work environment as one that "encourages creativity and brainstorming in a comfortable and safe setting" and "provides balance between work and personal needs."
"We are honored to have received this award for the third year in a row," said CEO Matt Moeller. "It highlights our corporate tenet of care and compassion and, with that, our commitment to ensuring a productive, safe and professional work environment that emphasizes personal growth for each and every one of our amazing employees – individuals of integrity who are dedicated to bringing excellence in radiation safety, industrial hygiene, and environmental protection to the state of Washington and beyond."
Dade Moeller employed 107 individuals in Washington, and 200 company-wide, at the time of the award nomination. In 2012, the company was ranked 23rd out of 24 large companies, and, in 2011, it was 17th out of 26 midsize companies. The "100 Best" list is available on the Seattle Business website.
About Dade Moeller: Headquartered in Richland, Washington, Dade Moeller is a nationally recognized firm that provides a full range of professional and technical services to federal, state, and commercial clients in support of nuclear, radiological, and environmental operations. The company specializes in radiation protection, medical physics, worker safety, and training. Dade Moeller employs more certified health physicists than any other U.S. company.