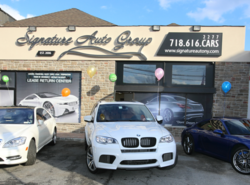 Have Signature Auto Group earn your business! Best Rates & Service for over 6 years!
Brooklyn, NY and Staten Island NY (PRWEB) July 02, 2013
Signature Auto Group has been one of the top places to go for Brooklyn auto leasing for over 8 years now, and within the last several months they have opened a second location to better serve the residents of the greater New York area. Known for their honest service, people throughout the area have come to depend on them for fast and reliable auto leasing. Over the past 8 years Signature Auto Group has built a loyal following of customers, and they expect that only to grow since the successful opening of their second location in Staten Island.
Those who are familiar with Signature Auto Group's location at 2319 Avenue X New York, NY 11235, which can be reached at (718)616-2277, will know that they aren't just another car leasing company. They can help you get out of an existing lease and into a new car, and also help set you up with great insurance at an affordable price. When it comes to finding the best leasing Brooklyn has to offer, there is no better place to go.
Many are excited about the new location, which is located at 2026 Hylan Blvd, Staten Island, NY and can be reached by calling (718)790-2886. With some of the best Staten Island auto leasing options anywhere, people will enjoy getting excellent deals on virtually any type of vehicle. Customers who are looking to trade in an existing car can also get top dollar for it, and have it applied to their lease or the purchase of a new vehicle.
Whether you want a BMW lease or something made more for the family, Signature Auto Group is there to help you every step of the way. They have the experience needed to know exactly how to serve every type of customer. Individuals looking for their first lease or those who want to get out of their lease early so they can drive a new model will love working with Signature Auto Group. They can help you purchase vehicles of every make and model, and they will even delivery them right to your home or business.
What is perhaps most impressive about this company is the fact that they not only managed to survive during these difficult economic conditions, they have done so well they were able to open a second location. They now offer the best leasing Staten Island has to offer, in addition to their great Brooklyn location. Signature Auto Group continues to work hard to exceed the expectations of each of their customers to help ensure they can continue growing and serving the residents of the area.
The owners of Signature Auto World have been managing this impressive company well for over 8 years, and they believe this is just the beginning. They have big plans for the future of their auto sales and leasing company in the area. They are continuing to work hard to establish themselves in their new Staten Island location, while continuing to provide the great services the people of Brooklyn have grown to expect.