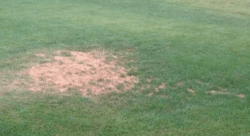 "Leaving the lawn a little longer helps shade the soil and keeps surface temperature down," says Dan Warehime, Vice President of Senske's Lawn & Tree Care division.
(PRWEB) July 02, 2013
Temperatures are expected to top 110 degrees this week in the Pacific Northwest. But that doesn't mean homeowners have to put up with a crunchy lawn. While grass can turn brown quickly depending on thatch, proper watering during a heat wave is a crucial step in keeping grass green.
Watering in an extreme heat wave is very important in maintain a healthy lawn, but how and when a lawn is watered could make all the difference. The experts at Senske Services recommend watering every day in the evening during a heat wave to cut down on evaporation.
Senske's General Manager of Maintenance, Tony Fisher explains, "Correct watering for an established root system is deep heavy watering every 3 days, but in extreme heat watering every day is the main method of keeping grass green." Overall, watering time depends on species of grass and sprinkler type. "For spray sprinklers 15 minutes daily and for router heads 30-45 minutes is recommended to cool grass," says Fisher.
In addition to watering the grass, allowing it to grow a little longer than usual could help to retain moisture. Well-maintained lawns can also cool the air around them by several degrees. Visit Senske's Watering Guide section to read more about what you can do to ensure your lawn stays healthy.
A lawn care professional can also keep lawns lush by using proper fertilization, regardless of temperature. "We fertilize with cool and slow release fertilizer high in iron in the summer to keep the lawn green without causing a lot of top growth," says Warehime.
If grass has turned brown and crispy despite the best efforts it might be time to call in experts like those at Senske Services, because deeper problems might be to blame. Lawn care professionals are equipped to help homeowners get back on track in terms of growing a green and lush yard.
About Senske Services:
Senske Services, Inc. is a leading lawn, tree and pest control service provider that is locally owned and operated, with its corporate office based in Kennewick, Washington. It has been a trusted source of lawn, tree and pest control services for more than 65 years across Eastern Washington, Idaho, and Utah, as well as pest control in Las Vegas, Nevada. To see what Senske Services can do for you, visit http://www.senske.com.