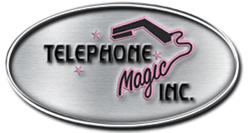 Niagara Falls, New York (PRWEB) July 03, 2013
Telephone Magic Inc. has announced plans to redesign its US and Canadian websites, pledging visitors will enjoy a more responsive customer experience with the inclusion of a new set of customer service tools.
TelephoneMagic.com has long been recognized as a leading online source for wholesale Avaya phones and Nortel business phone system equipment. Its site first went active in 1995 and has since undergone numerous design changes, while adding the NEC line and VoIP phones from Mitel, Cisco, Polycom, and more. In late 2007, the company also added its Canadian telecom portal, TelephoneMagic.ca, which caters specifically to business customers in Canada.
Jeff Jackson, president of Telephone Magic is thrilled with the announcement of the website design changes. Jackson indicates: "The current focus will be to bring to bear all the power of Web 2.0, CSS3, and HTML5 and we expect to unveil a whole new look and feel to our sites that will engage our wholesale telecom clients in new and exciting ways. There will be numerous ways to reach out to us for information and quotations. Our toll-free number will provide instant connectivity, a new Express Quote module will be available from any page of our site, we will continue to offer quotes directly from our product pages, and we will eventually roll out live chat for quotes and inquiries".
Jackson continues, "What makes us different at Telephone Magic is that we offer a real relationship to our customers. We are not a faceless shopping cart at a site that is no longer attended to or has outdated pricing. While we make sure our clients get up-to-the-minute price quotes, more importantly we get to know our clients and form long term bricks and mortar style business relationships with them. They also have their own personal contact so they always know who they are dealing with".
Telephone Magic has recognized that the telecom landscape has changed dramatically in recent years and as such has added numerous lines of IP phones and VoIP telephone equipment to its strong selection of digital business phone system hardware. Jackson notes, "At this point even the phone systems we would consider traditional have changed and grown with the times. Now a business phone system includes IP cards and phones, along with Unified Communications that includes modern tools such as voice mail to email".
Following the completion of the upgrades to the Telephone Magic sites, the company plans to apply the same improvements to its dedicated hotel phone site, HotelTele.com, allowing its wholesale hotel and motel hospitality clients to take advantage of the new engagement and interaction tools.
About Telephone Magic Inc.
Telephone Magic Inc. is in its 25th year operating as a wholesale distributor of business phone equipment.
Telephone Magic carries Avaya IP Office, Avaya BCM, Definity PBX, and Partner ACS phone systems, Avaya digital telephones, Avaya IP phones, circuit packs, cards, modules, expansion equipment, etc. Also featured are the legacy Nortel Norstar, BCM, and Meridian phone and voice mail systems, phones, Media Bay Modules, Key Codes, cards, expansion modules, parts, and accessories.
Telephone Magic features the NEC Univerge line of business and hotel telephone systems, including the Univerge SV8100 platform. This robust IP phone system contains a host of state-of-the-art telecom features.
Telephone Magic also specializes in Cisco IP phones, Polycom SIP telephones, phone call recording systems; message on hold systems; hotel and motel room phones from all the leading manufacturers; telephone headsets for Nortel Norstar, Merdian, Avaya, and NEC phones; wireless headsets for business phones; long range wireless phones; conference phones; and more.
Specialty products include Mitel PBX phone system cards, Supersets, and IP telephones, Plantronics phone headsets, Norstar, Avaya, Mitel, NEC digital and IP phones, long range wireless phones, On Hold Message systems, messages, Teledex, TeleMatrix, Scitec hotel room phones, Polycom conference phones, and much more.