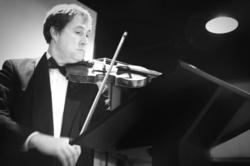 Thornton Cline will reveal his breakthrough discovery of nine practice personalities
Nashville, Tennessee (PRWEB) July 09, 2013
Did you know that your personality can affect the way you learn and perform a musical instrument? Grammy nominated songwriter and author, Thornton Cline will reveal his breakthrough discovery of nine practice personalities in his presentation at the NAMM (National Association of Music Merchants) Summer Show at 12 noon on Saturday, July 13 in the new Music City Conference Center located in downtown Nashville. Cline's presentation, "Practice Personalities: Effective and Efficient Ways to Practice According to Your Personality" is a revelation on music practice personality types which is found in his new book on Hal Leonard Publications titled, Practice Personalities: What's Your Type?" It contains research based on over 1000 interviews and observations of music students and with over 25 years of teaching experience. There will be a panel of distinguished music educators at the presentation to answer questions.
Thornton Cline's new 60 minute DVD, Practice Personalities will be released on July 12 to over 60 countries worldwide on Hal Leonard. The DVD features interviews with master music teachers and interviews with music students who exhibit the nine different practice personalities as described in the DVD.
Cline was recently nominated for the first ever Grammy Music Educators Award. He has received Grammy nominations for his musical performances and songwriting. Thornton Cline was awarded, "Songwriter of the Year" twice in a row for his hit, "Love is the Reason" recorded by King of Romance artist, Engelbert Humperdinck and pop diva, Gloria Gaynor.
Thornton Cline has had his songs recorded by over 150 major recording artists including Engelbert Humperdinck, Gloria Gaynor, Mark Chestnut, Ray Peterson, The Manhattans, Tammy Trent, Billy and Sarah Gaines, The Anchormen, Tim Murphy and others.
Clinetel Music is a multifaceted publishing, educational and production company located in Hendersonville, Tennessee. Clinetel Music has had numerous songs recorded by major and independent recording artists including releases in films. Clinetel Music is an ASCAP affiliated company and has won numerous songwriter/publishing awards. For more information on Clinetel Music, visit Clinetelmusic.com.