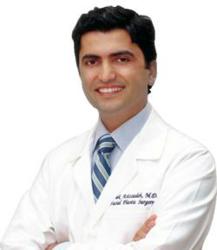 My practice revolves around helping patients achieve their desired look and feel better about themselves.
Beverly Hills, CA (PRWEB) July 03, 2013
La Peer's Babak Azizzadeh, MD, FACS, a facial plastic surgeon in Los Angeles, has been recognized as one of Vitals' Top Ten Doctors.
The award is chosen each year by millions of patients who provide ratings and reviews for doctors in their areas, and is based on quality of care, bedside manner, knowledge and efficiency of practice. Doctors that are given the Top Ten Doctors award have consistently been given top ratings by their patients, and Dr. Azizzadeh has been chosen based on his dedication to personal patient care and excellence in cosmetic and reconstructive surgery of the nose, face and eyes.
"My practice revolves around helping patients achieve their desired look and feel better about themselves," said Dr. Azizzadeh. "Knowing that as a whole they are satisfied with my work is an incredibly rewarding feeling."
Vitals is a trusted source across the country for helping patients make better health decisions, so they can choose the right doctor or health facility for them. Through extensive patient reviews and ratings, Vitals works to provide trusted relationships between patients and doctors, helping to improve care and overall health.
Choosing a doctor is one of the most important personal decisions that patients make, and can sometimes be a frustrating process. Vitals helps simplify this process for patients, providing powerful search tools and information about doctors to allow patients to make the best health care choices.
"I always strive to incorporate my patients' wants and needs into my work, strongly taking into account the consultation process," said Dr. Azizzadeh. "Knowing my patients appreciate this helps reinforce my practice, and I will continue to provide the best possible patient care."
Babak Azizzadeh, MD, FACS is a Harvard-trained facial plastic surgeon that specializes exclusively in the cosmetic and reconstructive surgery of the face, eyes, and nose. He is the Director of the Center for Advanced Facial Plastic Surgery. He is Board-Certified by both the American Board of Facial Plastic & Reconstructive Surgery as well as the American Board of Otolaryngology-Head & Neck Surgery. His expertise in cosmetic and reconstructive plastic surgery has made him one of the most sought-after surgeons in the country and led to his being featured in numerous media outlets, including The Oprah Winfrey Show, The New York Times, and Discovery Health.
La Peer Health Systems is an outpatient surgery center in Beverly Hills, founded by doctors and focused on providing excellent patient care alongside the most cutting-edge medical treatments available. With 50 world-renowned physicians in 14 specialties, comprehensive medical treatment is offered that takes patients from consultation to diagnosis, treatment, surgery, and ultimately aftercare. The 14 medical departments include orthopedics & sports medicine, gastroenterology, head & neck surgery, colorectal & general surgery, podiatry, ophthalmology, pain management, plastics & reconstructive surgery, gynecology, spine surgery, interventional cardiology, bariatric surgery, thoracic surgery, and anesthesiology. Unlike large hospitals, La Peer's unique structure offers extremely personal care in a safe and controlled environment.
To learn more about La Peer Health Systems, visit http://www.lapeerhealth.com.