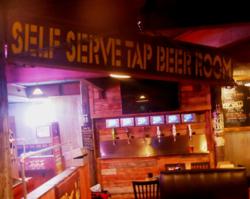 We have always designed our products by listening to the needs of our customer first then designing the product to suit the need. That's where we got the idea for the new site
Baltimore MD (PRWEB) July 03, 2013
Self-serve beer is really still somewhat in its infancy as a concept but the team at Innovative Tap Solutions have shown that they plan to lead it to into the growth years by launching a comprehensive and impressive new website highlighting their product lineup for the industry.
"We have been doing this for quite a while now" remarked Josh Goodman the company co-founder and owner, "and we are ready for our overnight success to happen" he joked. "In all honesty, we have been watching the growth in the self-serve arena and we have always designed our products by listening to the needs of our customer first, then designing the product to suit the need. That's where we got the idea for the new website".
The new site is a fountain of self-serve options set up with suggested unit pairings by industry vertical. "If I own an existing bowling alley my needs are not the same as those of someone building a new construction bar/restaurant" explained Goodman's business partner Declan Duggan. "We tailored the website specifically so that, as an owner and customer, you can find the unit that suits your business best, learn about it quickly and get in touch with someone who can help you get that ASAP so you can start making bigger profits".
The site highlights their mobile options and the built-in systems. Mobile units are free standing self-serve beer or wine tables or walls that do not need beer lines run from a cold storage area, they come with that already figured out. The built-in systems do require lines run from cold storage and are usually ideal for new construction. Either way, customers get the same end-result, no wait for a cold brew at the bar anymore. They get an RFID-chipped wristband that allows them access to two beers or two glasses of wine. Once they hit their limit they have to be assessed by a staff member to be allowed any more access to alcohol. "It's primarily designed for responsible access to beer or wine but without the normal wait time" said Goodman.
With the recent launch the team says that they are expecting a spike in traffic, quote requests and sales.
It seems that may be the case as the beer revolution continues at full pace.
http://www.pourmybeer.com is an Innovative Tap Solutions Company. The company was formed in MD in 2008 and made the first commercial mobile self-serve beer tables in the US. It also sells and distributes fixed beer walls, mobile beer walls, fixed draft tables and mobile draft self-serve tables. All mobile equipment is made in the USA. Contact sales (at) pourmybeer (dot) com or call 215-219-9203/443-691-2337