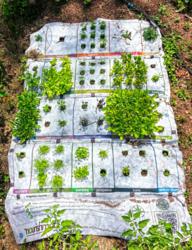 This was the only product at the show that I bought on the spot. - Jennifer Karmon, Yahoo! Homes Editor
Los Angeles, CA (PRWEB) July 02, 2013
Earth Starter's Nourishmat garden system brought home design gold just a week before its Kickstarter launch. Breaking into the garden, food, and design scenes with a splash, Earth Starter brought home Dwell On Design's Design Materials Award with its all new Nourishmat garden system, recognizing the sustainable, remarkable build and sourcing of the garden mat that helps consumers learn how to sustain their personal garden.
The 4' x 6' Nourishmat garden system lies over soil and comes with a variety of carefully chosen flowers, veggies, and herbs. It is designed to empower consumers to become producers by making it easy and simple to grow their own food. Included seedballs help the seeds germinate and begin to grow properly – they include worm casting fertilizer in their clay mixture.
Additionally, the variety of seeds included is carefully chosen to create a balanced garden ecosystem: specific flowers attract helpful bugs for specific plants. The Nourishmat garden system also hooks easily to a hose for the proper amount of watering per day, and blocks weeds from poking through the garden.
Co-founders Phil Weiner and John Gorby came up with the idea while at the University of Maryland, College Park. In line with the practice of empowering American consumers, the Nourishmat Kit is also manufactured in the United States, contributing to the power of its design materials.
Earth Starter is based in Washington, DC and launched a Kickstarter campaign on July 1st to help fund and manufacture its Nourishmat gardens. For more information, visit http://www.nourishmat.com.
About Earth Starter
Earth Starter is a social start-up based in Washington, DC and founded in 2011 by Nourishmat garden system creators Phil Weiner and John Gorby. Their first creation is Nourishmat, a garden pad with seeds included to create an easy, sustainable garden ecosystem and help consumers grow their own food. Weiner currently serves as Earth Starter's CEO, while Gorby serves as the President. Together, two are launching the Nourishmat garden system on Kickstarter in July 2013, and afterwards the mat will be sold at http://www.nourishmat.com. The garden system and its seed component, seedballs, are manufactured in the United States.