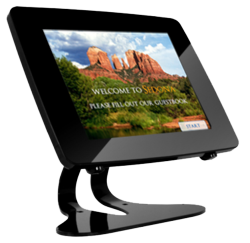 Over 1,500 visitors walk through our Sedona Chamber of Commerce Visitor Center doors each day
SCOTTSDALE, AZ (PRWEB) July 02, 2013
Scottsdale-based mobiManage, a company that designs develops, manages and markets mobile-first web and mobile application solutions, has integrated its next generation mobiKiosk solution for destinations and companies. The Sedona Convention and Visitors Bureau selected mobiManage as the preferred partner to develop new interactive kiosks for the visitor center, to capture key information from travelers while in-destination and to communicate with them after their initial visit.
"mobiManage continues to expand the functionality of its marketing platform, by including the easy deployment of kiosk solutions and data collection products through tablets and smart phones," said Doug Ralston, president of mobiManage. "We were thrilled to work with Sedona CVB to help them capitalize on visitor data and provide a complete hardware and software solution that was affordable and effective for their visitor center.
The key data that is captured by Sedona's visitor kiosks includes the visitor's country, state, and zip code, how they heard about Sedona, duration of stay, rating knowledge of visitor center staff, phone and email collection through an enter to win and a QR code scan to encourage Facebook likes. The kiosk interface is an iPad app solution with a secure enclosure making it easy for customer use and secure for iPad protection.
"Over 1,500 visitors walk through our Sedona Chamber of Commerce Visitor Center doors each day. Our goal with the mobiKiosk and survey project was to provide a sophisticated iPad tablet-based guest book that was more intuitive and enjoyable for the visitor to use; while providing efficient data collection and greater analysis on the back-end. This is the perfect tool, and mobiManage was very adaptable to our needs," said Michelle Conway, Director of Marketing for Sedona Convention and Visitors Bureau.
Sedona utilizes the mobiData Syndication module, which allows them to push and pull data from any device across their mobile websites, apps or kiosk solutions. "With this new form of data aggregation, our destinations can send specific data and information to their key demographics and markets, as well as provide messaging to entice visitors to come back or stay longer," said Ralston.
About mobiManage:
Based in Scottsdale, Ariz., mobiManage designs, develops, manages and markets mobile websites and mobile applications for clients in industries including travel and tourism, retail, homebuilding, automotive and more, giving customers a richer and more enjoyable way to reach and engage with mobile users. mobiManage offers customized, turn-key mobile solutions that help take its customers' content and marketing to new levels. Founded in 2008, the mission of mobiManage is to provide customers with premium, market-focused mobile websites, applications and services that are easy to manage while ensuring brand and market identity. Clients include CVS/Caremark, Cold Stone Creamery, Visit Orlando, Fulton Homes, Prudential Properties, San Diego Convention and Visitors Bureau, Visit Santa Clara, Shea Homes and more.