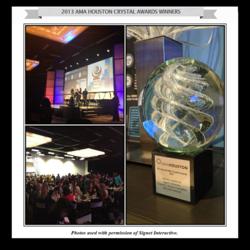 They donated many hours…to ensure expression of our message...Our 2013 conf. was the most successful event ever...We are now planning 2014 set for March 29 & 30. Thank You for helping us grow! Gwen Sunny Simmons, RN, CEHF Nsg Advisory Bd
Austin, TX (PRWEB) July 02, 2013
The interactive media agency, Signet Interactive, proudly accepted top honors at the AMA Crystal Awards, presented by the American Marketing Agency Houston Chapter (AMA Houston) on May 23, 2013. They received the Website, Healthcare Award for the development and redesign of the new website for The Charles E. Holman Foundation(The CEHF). The CEHF is a non-profit advocacy group for those suffering from a rare medical condition called Morgellons Disease, which is characterized by the formation of unusual fibers within the skin.
"Thank you Signet Interactive for helping The Charles E. Holman Foundation reach our goals by raising awareness through our website and social networking!" says Cindy Casey-Holman, RN, Executive Director of The CEHF. "Congratulations on the award and a big round of applause to the Signet Interactive staff!"
The new website design incorporates better-organized content and easy-to-navigate dropdowns. Banners were added to promote events, news and updates. It empowers visitors to donate, learn more about both the organization and Morgellons Disease and streams The CEHF's Blog Talk Radio Show.
"Our website design team received this award from the American Marketing Association in May, just after our 6th Annual Morgellons Medical Conference held in April," remarked Gwen "Sunny" Simmons, RN, a volunteer member of The CEHF Nursing Advisory Board. "They donated many extra hours of time and work for our website to ensure the expression of our message and mission. Our 2013 conference was the most successful event ever for The CEHF. We send the entire Signet Interactive team a great big 'Thank You' for helping us grow and a well-deserved 'congratulations' for a much deserved award and peer recognition from their industry."
Currently, The CEHF is working with the Signet team to begin their marketing initiatives for the 7th Annual Morgellons Medical Conference, set for March 29th-30th, 2014 in Austin, TX. The event is the biggest awareness campaign The CEHF hosts for Morgellons Disease. Abstracts and presenters are being accepted for consideration until Jan. 2, 2014. Submissions should be emailed to info(at)thecehf(dot)org and include an abstract, bio and CV.
For more information about The Charles E. Holman Foundation and Morgellons Disease, please visit the newly-updated website. DVDs from the 2012 Morgellons Medical Conference, a downloadable information brochure about the condition, peer-reviewed research publications containing the most up-to-the-minute information, and much more are available on the website.
About The Charles E. Holman Foundation
The Charles E. Holman Foundation, based in Austin, TX, is a 501(c)(3) nonprofit organization committed to advocacy and philanthropy in the battle against Morgellons Disease. The foundation was named for Charles E. Holman, a pioneer in the fight against Morgellons Disease, and is led by Executive Director Cindy Casey-Holman, RN. Morgellons Disease is a multi-system illness that affects people of all ages and ethnic groups, and includes slow-healing skin lesions often accompanied with overwhelming fatigue and an array of neurological deficits.