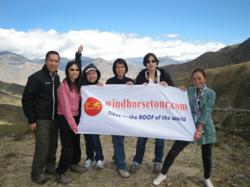 July is in the peak season of Tibet tourism, We advise our clients to book their tour one month in advance. -- Tashi
(PRWEB) July 02, 2013
This Monday (July, 1st), the Tibet Tourism Bureau (TTB) announced that they have restarted accepting the new applications for Tibet Permits. WindhorseTour, with their local Lhasa office, is always up-to-date with the latest policy changes. They post them regularly on their website.
Last week, there was a short period of (2) days where the TTB had delayed issuing permits and advised travel agencies to wait on submitting new applications.
From this week, TTB office has increased their attention for reviewing each applicants occupation in more detail. Any foreigners who want to enter Tibet must apply for their Tibet Permits at least 15 days in advance. An organized private or group tour is also required. Clients can choose to start the Tibet Permit process with WindhorseTour, under their money back guarantee.
Tashi, one of WindhorseTour's staff in Lhasa said, "July is in the peak season of Tibet tourism, both flight and train tickets are in great demand. We advise our clients to book their tour more than one month in advance, so we can have enough time to arrange the itinerary and book the tickets for them."
WindhorseTour offers a wide selection of Tibet Private Tours and Tibet Group Tours. Both of them have been designed based on the direct feedback from previous clients and their staff's personal travels. With over 10 years experience of tailor making tours for foreign travelers, their goal is to provide a vast array of possible activities that match clients' interests and budget.
Travelers can choose an overland trip to Mount Everest, trekking from Ganden to Samye Monastery, a spiritual kora at Holy Mountain Kailash and many more. The important Shoton Festival will be celebrated on the 6th of August in Tibet, WindhorseTour again is offering their annual festival tours, that helps clients participate in the celebration with the locals.
WindhorseTour specializes in creating tailor made experiences based on every client's unique needs and operating groups to all provinces in China. Please visit WindhorseTour.com for more information or contact them.
Email address: news(at)windhorsetour(dot)com
TEL: (+86)-28-85593923, (+86)-28-86254701
Fax: (+86)-28-86254710