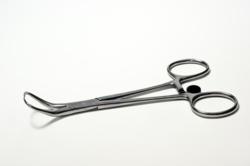 Becoming a GS1 industry partner puts us in the industry forefront towards the implementation of UDI standards "
Hod-Hasharon, Israel (PRWEB) July 03, 2013
ORLocate® enables hospitals to significantly reduce costs associated to surgical instrument shrinkage as well as provide accurate usage data on each instrument to optimise instrument set size and overall inventory.
The system helps increase staff productivity and accuracy by actively guiding and monitoring the technician's entire workflow cycle to ensure compliance. It improves patient safety and infection control and prevents Retained Surgical Items ("RSI") by provision of accurate instrument level data. Such data can also help the hospital to improve instrument utilisation; better accommodate their inventory to the real surgical needs while minimising redundancy, archiving better adjustment of the content of surgical sets. For more info see a short video. http://www.youtube.com/watch?v=85ZjZFbBbUs
"Becoming a GS1 industry partner, is aligned with our vision to improve healthcare via advanced technologies and puts us in the industry forefront towards the implementation of UDI standards," said Rubi Halberthal, CEO, Haldor Advanced Technologies.
Many of the hospitals in the UK have already adopted GS1 standards and the National Audit Office (NAO) has made an explicit recommendation that the (DoH) Department of Health should call for the adoption of GS1 Standard in the NHS. "We are excited about becoming a GS1 partner and we are sure this will help us to better accommodate UK hospital's needs," said Alan Heath, UK Director of Sales, Haldor Advanced Technologies.
UDI standards soon to be finalised will require medical service providers to uniquely tag all their surgical instruments within 3 years. According to Chris Doyle GS1's Healthcare lead, "The EC released its UDI guidance recommendation in April 2013, it is clear that a sea change in regulatory requirements for medical devices is in progress globally; it is now only a question of how soon UDI will be enforced."
Haldor's proprietary RFID technology is the only market ready technology with CE certification, FDA 510K clearance that facilitates UDI requirements with a pragmatic cost effective solution.
About Haldor Advanced Technologies
Haldor Advanced Technologies is committed to helping hospitals meet the ongoing challenge of increasing operational efficiency, reducing costs, and improving patient safety by enabling hospitals to effectively track, manage, and analyse surgical instruments on an individual basis. Haldor's leading surgical instrument visibility solution, ORLocate® empowers hospitals to significantly reduce costs associated to surgical instrument shrinkage in both the operating room and sterile processing departments, to increase staff productivity by eliminating manual counting procedures, and to improve patient safety by managing infection control and the prevention of retained surgical items with accurate instrument level data. Headquartered in Hod-Hasharon, Israel, Haldor has offices in Europe, the Middle East, and North America. Haldor has received ISO 13485 certification for medical device quality system and is also a GS1 industry partner. Haldor's technology is patent protected in many countries.
The ORLocate system has FDA 510K clearance and CE certification and the product is GS1 compatible and UDI ready.
For more information, please visit http://www.haldor-tech.com.
About GS1
Established in 1970, GS1 is an international not-for-profit association with a mission to assist organizations to become more efficient. GS1 operates across 150 countries promoting standards that enable organisations to communicate better in areas such as Barcode, RFID, and electronic data exchange.
The GS1 Electronic Product Codes (EPCs) standards in RFID tags, enables smoother, cost-effective and accurate trading. You can use EPCglobal standards to consolidate, filter and share information globally. For more info please visit http://www.gs1uk.org/what-we-do/GS1-standards/Pages/EPCglobal.aspx.