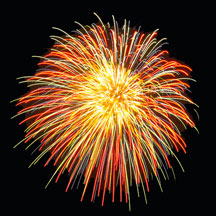 It is so important that people take all necessary precautions when around fireworks...
Neptune, NJ (PRWEB) July 03, 2013
It is believed that the first fireworks were introduced by the Chinese in the 800's. Bamboo shoots were filled with gunpowder and ignited on the New Year. Whether this story is true or not, fireworks have been incredibly popular for hundreds of years.
Fireworks have been used to deter evil spirits, to scare off the enemy and of course for holiday festivities. Fireworks in the United States celebrate Independence Day, New Years, at sporting events and just for enjoyable summer night entertainment in many places.
For all of the glory and awe that accompanies a good fireworks display, history has also shown that fireworks can be extremely dangerous. According to the NFPA, fire departments in the United States respond to more than 50,000 fires caused by fireworks.
Additionally, the NFPA states that hospitals across America see almost 9,000 people with firework injuries that are the result of firework accidents. It has been reported that most injuries occur between June 15 and July 15. Approximately 40% of these injuries are to children under the age of 15.
"It is so important that people take all necessary precautions when around fireworks," said Donald Colarusso, firefighter equipment supplier, President of All Hands Fire Equipment and a 26 years veteran firefighter. "Everyone should follow the safety tips and recommendations offered by public safety professionals regarding fireworks."
These tips that may increase awareness and safety around fireworks.

Local laws regulate the use of fireworks, it is important to know what the laws are and if fireworks are illegal they should not be used.
Fireworks should not be used or ignited indoors. Fireworks should only be used outdoors.
Water should be on hand when fireworks are going to be used.
Firework operators should never be under the influence of alcohol or drugs.
Children are not allowed to use or light fireworks.
If a firework has been ignited and fails after 15-20 minutes it should be doused with water.
Fireworks must not be altered or modified. They should be used according to the instructions on the packaging.
Spectators must remain a safe distance from fireworks.
Firework operators must be alert to weather patterns and not use fireworks during windy conditions.
Fireworks must be kept a safe distance from structures.
Common sense and safety must be maintained during firework operations.
The key to enjoying the summer holidays is to maintain safety by awareness of surroundings. Fireworks are inherently dangerous, but with care, respect and being aware of danger, they can also be enjoyable and fun.