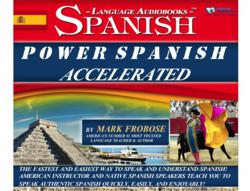 I explain everything in English so you always understand what you're learning, and my five native Spanish speakers teach you how to really speak their language with the right accent!
Mark Frobose/Author
Power Spanish Accelerated
Champaign, IL (PRWEB) July 09, 2013
Language Audiobooks founder Mark Frobose stated his opinion today that his new instructional audio Power Spanish Accelerated program is both faster and easier than any of the competitors including Rosetta Stone and Pimsleur.
"The challenging pace and tone of Power Spanish is designed to keep the learner constantly motivated and learning Spanish at optimal speed," he said.
Mark Frobose should know what works and what doesn't. He's been a multilingual language teacher and professor for years and has created some of America's most popular bestselling language programs.
"I think it's bogus for any one language company to assert that their method is the only way to learn a language," stated Frobose. "Language learning is for everyone, and Power Spanish Accelerated is the fastest and easiest way to speak Spanish," he concluded.
Why Power Spanish Accelerated?
According to Mark, Power Spanish Accelerated incorporates several unique product features into one simple and fast audio program that ensures the learner will get a maximum bang for the language buck.
"I explain everything in English so you always understand what you're learning, and my five native Spanish speakers teach you how to really speak their language with the right accent," explains Frobose.
Mark goes on to explain that there is a built-in memory technique, a fast original sentence creation model and other features that make his customers give Power Spanish Acceleraed five-star reviews for the program.
Power Spanish Accelerated is now available on Amazon.com. Instant downloads are also available at http://www.languageaudiobooks.com.