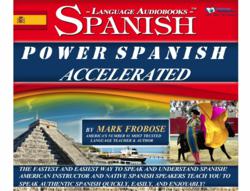 My father is a WWII veteran who jumped in Normandy with the 82nd Airborne. He told me we were free and could learn and speak any language we want in America.
Mark Frobose/Author
Power Spanish Accelerated
Champaign, IL (PRWEB) July 04, 2013
Learning to speak Spanish may be one of the most patriotic things you could do on the Fourth of July says Language Audiobooks President Mark Frobose.
"Choosing which second language you want to learn is the ultimate expression of your freedom," states Mark emphatically
Frobose, who recently created a runaway Amazon.com bestseller titles "Power Spanish Accelerated" says that his reasons for thinking language learning is patriotic is simple.
"It comes down to your individual right to determine what you learn, what you speak, and how you choose to express yourself," he says.
If speaking foreign languages is patriotic, then Frobose, who speaks seven of them fluently, is a true patriot. His language programs have been bestsellers and sold through major publishers like Amazon.com and Macmillan Audio of New York.
"My father is a WWII veteran who jumped in Normandy with the 82nd Airborne," says Mark. "He taught me some French and German that he learned while fighting the Nazis and he told me we were free and could learn and speak any language we want in America," concluded Mark with a smile.
Power Spanish Accelerated is now available on Amazon.com and on Mark's website located at http://www.languageaudiobooks.com.