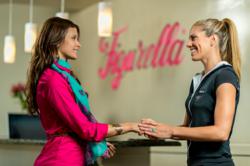 Our goal is to bring the body to its right weight, right shape and harmony. Figurella is a lifestyle that reshapes your curves to perfection.
Coral Gables, FL (PRWEB) July 02, 2013
Figurella, the Italian weight loss method, has officially opened its second location in the United States. Figurella has been in the business of successful weight loss for over 30 years and boasts more than 500 locations worldwide, making the company a major player in the international wellness industry. After an outstanding first year at its Palm Beach Gardens location, Figurella is expanding into the Miami market by opening its doors in Coral Gables.
The Figurella method is a natural weight loss system designed specifically for women, and it is 100 percent personalized for each individual. Clients are taken through the entire process with care and special attention from the moment they walk in the door. This is not just another weight loss center, after all. Figurella prides itself in providing proven, premium options for clients who are serious about shedding extra weight.
Each 60-minute session is divided into two key phases. First, customers spend 30 minutes in Figurella's patented Bubble. This revolutionary machine is designed for movements that target those parts of the body that need reshaping. Through controlled internal temperature and specific physical activities, The Bubble is able to stimulate lipolysis, the disposal of stored fat.
The session concludes with a 20-minute active oxygen bath in the patented SpaShell. This bath continues the fat metabolism triggered by The Bubble and contributes to continued fat loss. The bath also tightens the skin. The oxygen bath triggers a rejuvenation of the body, causing the skin to become more compact and smooth. In short, the SpaShell works to eliminate fat in the body by naturally increasing metabolism while the skin appears noticeably younger.
Finally, customers leave Figurella with a better knowledge of their nutritional needs. Expert dieticians are on staff to discuss personalized nutrition with clients. Dieticians help the customer reestablish a healthy relationship with food. Figurella believes that every woman who enters their facility is unique. They recognize that each customer has different goals and needs. Therefore, the program is designed with the individual in mind.
The luxurious, new Figurella center is located at 1600 Ponce de Leon Boulevard, Coral Gables, Florida 33134. Hours of operation are Monday – Friday from 9:00 a.m. – 6:00 p.m. For more information and reservations, please call 786-777-8951 or visit http://www.figurellausa.com.