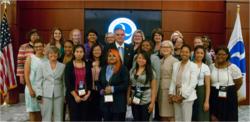 The Transportation YOU program at WTS would not exist were it not for Secretary LaHood and so many others at DOT who have supported the program with their time and extraordinary effort.
Washington, DC (PRWEB) July 03, 2013
Before Transportation Secretary Ray LaHood was whisked off to the press room to address the nation in his farewell speech last Thursday, he took time to address a group of young women who were visiting the Department's headquarters as part of the Transportation YOU DC Youth Summit, which was designed to introduce, inspire, and guide high-school girls toward a future in STEM studies and a career in the transportation industry. This was of no great surprise to those familiar with the Secretary's priorities; generating awareness about transportation as a viable career choice for young women has been one of LaHood's most passionate messages.
Participants in the Transportation YOU Summit included 15 female students from across the US invited by WTS International, the association for building the future of transportation through the global advancement of women, along with their individual mentors.
The Transportation YOU initiative was spearheaded by LaHood himself in partnership with WTS in 2010 when he signed a memorandum of understanding, so it was fitting that the first stop for its annual four-day flagship program this year was USDOT.
The Transportation YOU program is a source of scholarship, internship, and networking opportunities. It links young women with professionals in the field and inspires them to pursue STEM-related coursework and exposes them to career possibilities in the transportation industry not typically pursued by women. Secretary LaHood has been unwaveringly determined to support President Obama's call to action to get more students, particularly young women, on track to take the helm of the country's infrastructure needs so that the US can "Win the future" with a robust economy, thriving communities, and success of individuals.
"The Transportation YOU program at WTS would not exist were it not for Secretary LaHood and so many others at DOT who have supported the program with their time and extraordinary effort," said WTS President and CEO, Marcia Ferranto. "With the assistance of Bryna Helfer, Senior Director of Public Engagement, these young women at the Summit received rare access to certain areas at DOT and one-on-one time with high-profile women leaders."
The first session for the Summit attendees was a visit to USDOT's Crisis Management Center (CMC) for behind-the-scenes access and a tour by William Stuckey, manager of the Center. From there, participants were broken into small groups to speak with some of DOT's female executives so that they could ask questions about professional advancement, special departments at DOT, and academic paths that could lead to a career in the public sector. Among the DOT set were:

Marlise Streitmatter, Deputy Chief of Staff
Audrey Farley, Associate Administrator for Administration, Research and Innovative Technology Administration
Karen Hedlund, Deputy Administrator, Federal Railroad Administration
Therese McMillan, Deputy Administrator, Federal Transit Administration
Administrator
Patricia Readinger, Deputy Assistant Secretary, Governmental Affairs
Kathryn B. Thomson, Acting General Counsel
Susan Kurland, Assistant Secretary for Aviation and International Affairs
Lucy Garliauskas, Associate Administrator for Planning & Environment, Federal Transit Administration
Ellen Partridge, Chief Counsel, Research and Innovative Technology Administration
Vanessa Sutherland, Chief Counsel, Pipeline and Hazardous Materials Administration
The highlight of the DOT visit for the Transportation YOU Summit attendees was the moment Secretary LaHood walked into the room to speak to them, minutes before heading out to give his public farewell address as he steps down from his post. LaHood spoke about opportunities in transportation for young people who have STEM backgrounds, especially women. He noted that DOT is "practically run by women," as evidenced by his senior team that was represented in the room. Secretary LaHood recommended that the students channel their energy and drive through education, internships, and, most importantly, talking to people and networking, so that they can achieve their ultimate success.
As an example of the impact that a role at DOT can have, Secretary LaHood spoke about the Department's emphasis on safety and how they've achieved getting laws passed to allow federal oversight of safety issues that were previously handled individually by each state.
"The Secretary's choice to stop in and welcome these young women before addressing the nation was certainly poignant," said Ferranto. "While he's been leading the charge to keep America's transportation structure operating, he's also been working and partnering with organizations like WTS with an eye on the future. Workforce development is critical for this country and the future of the world, and bringing young women and other critical populations into the industry is where the Honorable Secretary LaHood's passion comes through."
For more information about WTS International and Transportation YOU, contact Marcia Ferranto at 202-955-5085 or visit http://www.wtsinternational.org.
Transportation YOU is a hands-on, interactive, mentoring program that offers young girls ages 13-18 an introduction to a wide variety of transportation careers. Through the program, WTS chapters work to make a difference in the lives of young girls by offering programs and activities that will spark their interest in all modes of transportation and encourage them to take courses in science, technology, engineering and math, which are the stepping stones to exciting careers that can change the face of the transportation industry. For more information, contact Marcia Ferranto, WTS President and CEO, at 202-955-5085
WTS International and WTS Foundation, headquartered in Washington, DC, seek to attract, retain, and advance women in transportation. As the industry's premier multi-modal association, WTS boasts a network of more than 5,000 transportation professionals—women and men from across the United States, Canada, and Great Britain. Every transportation mode is represented, as is every service within the industry. From federal leaders to engineers and planners, the WTS membership base represents nearly 1,500 companies and 400 agencies in more than 90 cities. WTS Foundation has provided more than $1,000,000 in scholarships to deserving women throughout the transportation industry, supporting the next generation of transportation professionals and advancing the principles of WTS. More information can be found at http://www.WTSinternational.org