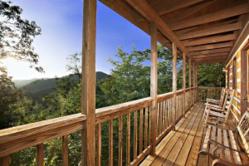 It's as if once all the little things are out of the way, they can get back to the things that matter, like spending time with family and relaxing.
Pigeon Forge, TN (PRWEB) July 02, 2013
On June 25, Hearthside Cabin Rentals announced the best tips and tricks for families to get the most out of their Smoky Mountain vacation this summer.
"Plan ahead" was the biggest advice Hearthside Cabin Rentals had to offer future Smoky Mountain vacationers. Whether pre-planning meals, planning to do laundry or searching for discounted tickets to attractions in Pigeon Forge and Gatlinburg, the best way to ensure a relaxing is to plan ahead.
"It has been our experience at Hearthside Cabin Rentals that families who take time to pre-plan things such as meals and which attractions to visit get the most out of their vacation," said a spokesperson for Hearthside Cabin Rentals. "It's as if once all the little things are out of the way, they can get back to the things that matter, like spending time with families and relaxing."
The biggest perk of planning ahead, according to Hearthside Cabin Rentals, is a family's ability to save money during their vacation. For instance, one of the biggest expenses families have when traveling to the Smokies is the cost of dining out.
To combat this, Hearthside Cabin Rentals urges guests to cook meals together in the comfort of their fully-equipped Pigeon Forge or Gatlinburg cabin. Not only is cooking in your home away from home good for you and your wallet, it also allows families to spend more unwinding.
Another tip is to plan to utilize the washer and dryers that come standard in most Pigeon Forge and Gatlinburg cabins. There is no longer a need to worry about whether you packed enough outfits for your trip. As Hearthside Cabin Rentals points out, by planning to do a load or two of laundry during their Smoky Mountain vacation, families can reduce the stress of facing a mountain of laundry after their vacation. A little pre-planning in the packing process equals more relaxation during your Smoky Mountain vacation.
No Smoky Mountain vacation is complete without a tour of all the attractions in Pigeon Forge and Galtinburg. In their attempts to help families pre-plan for their mountain adventure, Hearthside Cabin Rentals also offers a Freedom Fun Pass that offers one free admission per night of vacation to Pigeon Forge attractions and restaurants like WonderWorks, Ripley's Aquarium of the Smokies and Mama's Farmhouse Restaurant in Pigeon Forge.
Hearthside Cabin Rentals and Property Management offers a variety of cabins in Gatlinburg, Pigeon Forge and Sevierville, Tenn. Hearthside Cabin Rentals has been family owned and operated, calling the Smoky Mountains home, since 2003. Along with their 25 employees, owners Daniel and Janice McAllister work to ensure guests feel more like family than customers. All offices are located at 702 Wears Valley Road, Pigeon Forge, Tenn., and are open Monday-Friday 9 a.m.-9 p.m. and Saturday-Sunday 9 a.m.-8 p.m. For additional information, or to reserve a cabin, visit their website at http://www.hearthsidecabinrentals.com, or contact Hearthside Cabin Rentals by phone at 1(888) 993-7655.