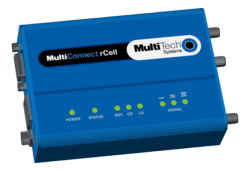 We are confident our M2M customers in Europe will recognise the benefits to quickly incorporate into their cellular communications strategies. -Neil Carey, Director of Sales, EMEA
Minneapolis, MN (PRWEB) July 02, 2013
Multi-Tech Systems, a leading M2M (machine-to-machine) communications solutions provider, announced today that it added the MultiConnect® rCell to its comprehensive portfolio of intelligent wireless routers. Specifically designed for the European market, this new router is housed in a high end, semi-industrial style chassis and offers a range of flexible connection options to support most M2M application requirements.
The MultiConnect rCell with integrated 3G HSPA modem is available in models that are configurable for Wi-Fi® or Bluetooth® modes to maximize wireless options, as well as GPS capability for applications that require tracking. This cellular router is a fully certified and approved, and is out-of-the-box ready for deployment configuration.
"We are enthused by the release of Multi-Tech's new European deployment orientated family of Cellular Routers," said Neil Carey, Multi-Tech Director of Sales – EMEA. "With their high-end build quality, newly updated chassis design and the additional on-board functionality the MultiConnect rCell family offers, we are confident our M2M customers in Europe will recognise the benefits to quickly incorporate into their cellular communications strategies."
For more information about the latest MultiModem rCell, please visit the Multi-Tech website for product specifications and a short video spotlight.