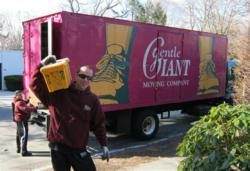 This partnership with the Furniture Sharehouse enables Gentle Giant to do work that directly and positively impacts the community we have been proudly serving for the past decade
White Plains, NY (PRWEB) July 08, 2013
Since opening in 2007, Furniture Sharehouse has been on a mission to help furnish hope for families and individuals looking to rebuild their lives after facing a variety of challenging situations. The organization provides free furniture to people moving out of homeless shelters into permanent housing, battered women and children escaping domestic violence, working families struggling to stay above the poverty line, young adults aging out of foster care, and victims of fires or other natural disasters.
Last month, Furniture Sharehouse received their biggest donation to date when the DSF Group of White Plains donated the furnishings from 39 units of a recently purchased property that served as luxury furnished apartments. Clearing out the furniture was part of the process in converting the building into a boutique, luxury community called The Halstead White Plains Metro North. To claim donated furniture, Furniture Sharehouse clients are normally brought by appointment to their warehouse, located at the Westchester County Airport, where volunteers help them select furniture items, which include beds, table and chairs, sofa, occasional tables, dresser, bookshelves, TV, microwave, rug, lamps, and more. However, the volume of this recent donation from DSF has created a huge need for qualified, careful movers to step up and aid with direct transportation and relocation. Longtime Furniture Sharehouse supporter Gentle Giant Moving Company, an award winning local and long distance moving and storage company located in Westchester County and New York City, answered the call.
On Tuesday July 9th, a crew of highly trained Gentle Giant movers will load dozens of items of furniture into one of their famous purple moving trucks and deliver them to several families that have requested aid from Furniture Sharehouse. "Gentle Giant Moving Company is so pleased to be working with the Furniture Sharehouse on this record setting donation," explains Gentle Giant's New York Branch Manager Josh Charry. "This partnership enables Gentle Giant to do work that directly and positively impacts the community we have been proudly serving for the past decade."
In just 6 years, the Furniture Sharehouse has helped provide over 30,000 furniture items valued at $2 million to over 2,000 households. To donate your furniture to this incredible organization, visit http://www.furnituresharehouse.org for details. To learn more about Gentle Giant's charitable community work, visit http://www.gentlegiant.com.
About Gentle Giant Moving Company, Inc.
Founded in 1980, Boston based moving company Gentle Giant is an award winning residential and commercial mover, offering local, long distance, and international moving services. Named 2009 Independent Mover of the Year by the American Moving and Storage Association, one of the Boston Business Journal's Best Places to Work in Massachusetts in 2004, 2005, and 2006, winner of the 2006 International Torch Award for Marketplace Ethics by the Better Business Bureau, winner of the Better Business Bureau's Torch Award for Excellence in 2002, 2003, 2005 and 2008, nine-time winner of Boston Magazine's "Best of Boston," six-time winner of The Improper Bostonian's "Boston's Best Moving Company" award, twelve-time winner of the Angie's List "Super Service" award, 2007 Top Small Workplaces award from the Wall Street Journal and Winning Workplaces, and named a Healthiest Employer in 2013 by the Boston Business Journal, the company's services include craning, piano moving, complete packing and unpacking services, and other related services. Gentle Giant offers storage facilities and dispatches crews from more than 19 offices in California, Chicago, Massachusetts, New Hampshire, New York, North Carolina, Rhode Island, Virginia, Washington, DC and Washington State. For more information, please call (617) 661-3333 or visit http://www.GentleGiant.com