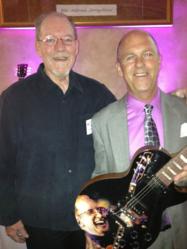 (PRWEB) July 04, 2013
Waukesha, the birthplace of legendary guitarist Les Paul, the inventor of the solid body electric guitar, is honored with Gibson Guitar Corporation's nationally acclaimed GuitarTown public arts project, and Griffin Ford of Waukesha is honored to be a major sponsor.
As part of the sponsorship Griffin Ford will receive a mural painted on the side of a historic downtown building as well as a playable Gibson Les Paul guitar beautifully decorated by acclaimed artist Chuck Weber.
Griffin Ford, undergoing a major remodeling and celebrating its 50 year anniversary as a car dealer in Waukesha, is very proud of the Waukesha heritage. "We are thrilled at the opportunity to give back to this great city," says Kip Rupple, Sales Manager for Griffin Ford.
GuitarTown Waukesha 2013 will build on the momentum of last year and feature 10-foot tall fiberglass Gibson Les Paul model guitars, regular sized guitars, and professional murals to be artistically designed by local students and nationally acclaimed visual artists, and displayed in front of the city's landmarks and businesses. Each guitar sculpture and mural will celebrate a musician, personality or artist unique to the region's history with sponsorship by local Waukesha businesses and individuals.
The GuitarTown Project will unite the Waukesha area business and cultural communities. The mission of the project is to raise funds to better the lives of those served by local non-profit organizations, including music and art programs within the Waukesha schools, Habitat for Humanity and The Food Pantry of Waukesha County.
The launch of Waukesha GuitarTown Encore took place the weekend of June 7th, 2013 in honor of Les Paul's birthday. The kick-off event included a private reception, musicians and celebrities, and the opening of Downtown Waukesha's annual Friday Night Live summer music festival.
About Griffin Ford
Griffin Ford, located in Waukesha, WI, is proud to be one of the premier dealerships in the Milwaukee area. From the moment customers walk into the showroom, they'll know this Waukesha car dealer's commitment to Customer Service is second to none. Griffin Ford strives to make every customer's experience with Griffin Ford a good one – for the life of their vehicle.