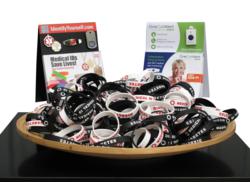 Houston, TX (PRWEB) July 02, 2013
At a small hospital in Cleburne, Texas, a suburb south of Fort Worth, low-income patients with diabetes are now being provided with a free medical ID wristband. These medical IDs, provided to specific hospitals at no charge by American Medical ID, are important tools that communicate a condition, medication, or allergy during an emergency.
The Joslin Diabetes Center at Harvard Medical School says that medical ID bracelets can be extremely important for people with diabetes. Should a person with diabetes have a low blood glucose reaction and suddenly become confused or unresponsive, the medical ID bracelet allows immediate identification of the problem to both bystanders and paramedics. The sooner their low blood glucose reactions can be identified, the sooner they can be treated.
Responding to the needs of hospitals that treat low-income patients with diabetes, American Medical ID has stepped up to provide thousands of people with a free medical ID bracelet. This program is being offered to hospitals across the country. It was created to not only show support to the diabetes community, but to help provide a simple, potentially life-saving tool to those who otherwise could not afford one.
The effort was started by a social campaign in November of 2012, through the American Medical ID Facebook page, to spread awareness among the diabetes community. Hundreds of people shared posts explaining the importance of a medical ID for people with diabetes. Likes, comments and shares came from all over the country and across the globe. Within days, the program had become viral and diabetes related support groups and non-profit organizations were spreading the word. During that month, American Medical ID provided more than 20,000 medical ID bracelets directly to those in need.
The new free medical ID program for hospitals and clinics was created to extend this outreach into the diabetes community by involving local diabetes educators and medical professionals who treat people with diabetes.
When asked about the program, Rick Russell, President and CEO of American Medical ID, said, "For nearly two decades, we have had the privilege of providing the highest quality medical IDs to the diabetes community and it feels great to be able to give back. We receive so many thank you emails and cards that it really helps to put what we do in perspective. Most people learn about medical IDs right after they have been diagnosed with a life-changing condition, and our products give people a small sense of relief in what is otherwise a difficult time."
Since 1994, Houston-based, employee owned and operated, American Medical ID has created high quality, customized medical identification jewelry to meet every unique lifestyle. Candidates for a medical ID include anyone living with chronic or rare medical conditions such as diabetes, asthma, heart conditions, stroke risk or memory impairment; persons with allergies such as food, drug or insect; and those taking multiple medications or blood thinners. For more information about American Medical ID, visit http://www.IdentifyYourself.com or call (713) 695-0284.