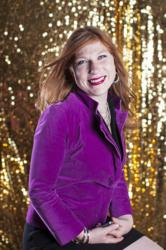 Clark epitomizes the rags-to-riches story, going from a living in a town of 600 on a struggling family farm to running multi-million dollar companies in three different states.
Milwaukee, Wisconsin (PRWEB) July 02, 2013
Brewers Organics founder Lucinda Clark was recently named one of the Top 40 Under 40 in the produce industry by Produce Business magazine. The recipients will honored at an industry reception in New Orleans in October during Produce Marketing Association's "Fresh Summit"—an industry trade show attended by more than 18-thousand produce associates from 70 countries. Each award recipient will be presented with a plaque bearing their profile, which was printed in the magazine.
Jodean Robbins of Produce Business says winners of the magazine's annual 40-Under-Forty Awards Program should be truly honored because they were chosen by industry mentors. Produce Business conducted an extensive, widespread search throughout the industry to elicit nominations for top young industry leaders under the age of 40. The search involved fax and e-mail broadcasts to thousands of executives, consultants, associations and universities as well as intensive networking and phone interviews. Robbins said the company had far more nominations than it could use.
Lucinda is founder and current CEO of Brewers Organics (WI), Space Girl Organics (FL), Georgia Girl Organics (GA), and Carolina Girl Organics (NC). Each business offers home delivery of organic produce and select groceries. Lucinda attributes part of her success to growing up on a farm outside of La Belle, M.O.
"Old roots are hard to pull and mine run deep in the farming community. Growing up my parents taught me that if I wanted to earn an honest day's pay I needed to put in an honest day's work. Furthermore, being as I grew up on a farm and my family is a family of farmers, I understand firsthand the struggles people face when trying to make a living off the land. I am able to apply that knowledge to my business operations and help the farmers that I work with have an outlet to sell their organic produce at a fair price as well as offer my customers the sort of personal touches that are second nature to me, but unfortunately have become a rarity in corporate America," said Clark.
Brewers Organics
Brewers Organics is a delivery service of farm fresh organic produce and select groceries. They deliver a fresh variety of fruit, vegetable or mixed fruit/veggie boxes straight to doorsteps and offices. The contents of the boxes change weekly based on the freshest arrivals from the organic farms they work with and are fully customizable. They supply donations to local nonprofits and partner with community schools focused on helping children and families eat well. Brewers Organics is more than a produce delivery business. It is a community of people trying to eat well, be well and do a lot of good in between. Join them at http://www.BrewersOrganics.com.
Lucinda's full profile, as it appeared in the magazine, is printed below:
Clark epitomizes the rags-to-riches story, going from a living in a town of 600 on a struggling family farm to running multi-million dollar companies in three different states. She is a pioneer in the organic industry, traversing the nation and raising organic awareness, promoting and aiding small local farmers, and making high-quality organic fruits and vegetables accessible to people across the U.S. She is founder and CEO of Brewers Organics, Georgia Girl Organics and Space Girl Organics, home delivery services offering organic fruits and vegetables. The companies operate in Florida, Georgia, and Wisconsin. She is also the founder and former owner of Clark's Organic Market, Kansas City's original organic produce home delivery service, and Arch City Organics, St. Louis' original organic produce home delivery service.
Clark has leveraged technology to set up an online market place, removing the need for a traditional storefront, achieving less produce shrink, providing a market for local farmers and artisans, and ultimately offering organic produce at a reasonable price for consumers with the added convenience of delivery to their doorstep. She harnessed the power of communication and social media to connect with customers, building a sense of community by sharing stories from the fields, coordinating local events, and encouraging customers to blog on the company website.
She created a logistics process to move product in and out of her warehouses within 24 to 48 hours, yielding less risk, since the produce has a home before it is out of the field. Clark's efforts resulted in farmers, wholesalers and brokers contacting her when they have produce that doesn't fit their traditional customers.
Clark took her business success beyond commercial borders. She implemented a successful item-of-the-week campaign to benefit the homeless. Customers may donate an item each week, such as toothbrushes or toothpaste, which the company picks up when the customer's delivery is dropped off. The items are then distributed to the homeless via local shelters in the market area. She also created a cooperative program allowing customers to pool their buying power to raise money for schools and charities.
She is motivated by the desire to help small farms find a marketplace for their produce and to help families gain access to high quality organic fruits and vegetables. "I grew up on a struggling family farm, so I know firsthand the challenges our farmer's face," she says. "The way I see it, more farmers in the U.S. do not choose to grow produce over row crops because of economics and logistics. Farmers can't afford to take the risk of not being able to sell 100 percent of their yields. I want to change that. I am creating market food hubs for farmers to sell their products. I am trying to fix logistics so farmers can farm and people can eat."
Looking toward the future, she aspires to set up additional markets and to participate in more community involvement. "I want to find creative ways to help educate consumers and lend a helping hand to those in need," she says. "At this point, all of my businesses are in major metropolitan areas. In the future, I want to expand to more rural areas like my hometown in Missouri. I think everyone should have a choice, an option and availability of fresh foods."
Clark counts herself blessed to have been mentored along her journey by some of the best people in the industry. She specifically names Pat and Frank Gallo of Central Produce in Kansas City, MO Rodney Scaman of Goodness Greeness in Chicago, IL, and Tom Stromolo of New York City Green Market. "Pat and Frank rented me my first warehouse space. They have been very generous with their knowledge of produce and how the industry over the years," she explains. "Rodney has become not just a mentor but a friend. He generously made a special trip to Florida just to introduce me to farmers when I got started there. Although I only speak to Tom a few times a year, he is quite an inspiration and is always available to swap stories on the industry really works."
###