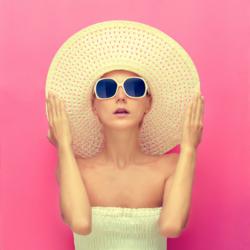 light weight wigs will keep you cool and comfortable through the summer heat
Los Angeles, California (PRWEB) July 03, 2013
WigSalon has always been the leading online source for lightweight wigs. The company which is now located in Los Angeles originated in Miami, so they know first hand how heat and humidity will affect a wig. Choosing the right wig for a hot summer day is very important. The wig should be light in weight, and constructed with a ventilated or full-lace cap.
The Summer Wig Collection by WigSalon includes a large selection of wigs that weigh between 1.5 & 3.0 ounces. All of the summer wigs feature either a lightweight ventilated cap or a full-lace cap. Both options are very breathable and will make a big difference in summer heat. WigSalon also recommends to go slightly shorter in length; this is not simply to reduce weight but to keep hair off your neck and back during a hot day.
In addition to the new wig collection, WigSalon is having their annual 4th of July Wig Sale. The Noriko, Amore, and Rene of Paris wig collections will be all be on sale at exclusively low prices. Designer and celebrity wig collections by Raquel Welch, Eva Gabor, Jon Renau Wigs, Henry Margu, and Envy Wigs will also have special low prices and extra discounts through the 4th of July Weekend.
The 4th of July Wig Sale is not limited to the wig collections mentioned above, WigSalon will be cranking their already low VIP pricing to ensure the lowest prices available on all styles, including the new summer collection. "The coupon code for this special offer is VIP."
Customers who prefer to shop in person can simply mention the VIP coupon code at WigSalon's Wig Outlet shop in Los Angeles to receive the July 4th Sale price.
Wigsalon.com
1-800-262-8437
info(at)wigsalon(dot)com
http://www.wigsalon.com