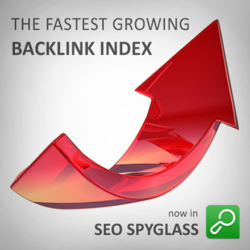 WebMeUp backlink index is a powerful add-on that lets SEO SpyGlass collect the maximum number of backlinks to a website.
Minsk, Belarus (PRWEB) July 02, 2013
Link-Assistant.Com, the company behind the world's leading SEO and social media software, announced that its backlink research tool SEO SpyGlass was integrated with a new powerful backlink source. Now, apart from collecting backlink data from search engine indexes and the in-house database, SEO SpyGlass users can fetch links from the fastest growing backlink index developed by WebMeUp.Com. This way, SEO SpyGlass users can maximize the number of found links and run more profound backlink research and analysis.
*Competition research and tools for backlink check*
Insights into competitors' link building strategies proved to be the most effective way of getting high-quality links. Today the software market offers a wide range of backlink checkers that scan competitors' links and analyze them to various SEO important factors. Most SEO tools collect link data from search engines, some have their own backlink databases and very few are integrated with backlink indexes.
*What is backlink index and how it works?*
Backlink index is a compilation of links collected from all over the Web. The collected data is stored on remote servers and being updated on regular basis. These are the reasons why backlink indexes provide the most comprehensive and up-to-date information on backlinks.
*SEO SpyGlass and WebMeUp backlink index integration*
SEO SpyGlass is the tool designed for in-depth competition research and backlink analysis. Now, empowered with a multi-billion WebMeUp backlink index, the software is capable of finding the maximum number of backlinks to a website.
"We are proud to announce that SEO SpyGlass has been integrated with WebMeUp backlink index. WebMeUp Backlink tool was launched a couple of weeks ago but already got about 200,000,000,000 links in its index," says Viktar, CEO, Link-Assistant.Com.
"Every day the index accumulates 15 billion new links, which means that it will be largest backlinks index on the Web in less than a month! Such a powerful add-on makes SEO SpyGlass a hands-down winner among backlink research tools," continues Viktar.
To access the new backlink source, users need to restart their software for an auto-update or download the latest SEO SpyGlass version from the official Link-Assistant.Com website.
Other SEO SpyGlass features include:

versatile backlink analysis,
comparing competitors link building strategies,
backlink verification,
scheduling link analysis activities,
and generating detailed professional backlink reports.
SEO SpyGlass is one of four tools SEO PowerSuite consists of. The other three SEO PowerSuite tools are:

WebSite Auditor - content optimization and onsite diagnostics software
Rank Tracker - keyword research and rankings monitoring tool
LinkAssistant – link management app.
Keen on internet marketing software? Find software updates and other news from Link-Assistant.Com in the company's official communities on Facebook fb.me/LinkAssistant, Twitter @LinkAssistant and Google Plus gplus.to/LinkAssistant.
*About Link-Assistant.Com*
Link-Assistant.Com is the leading SEO and SMM software developer. Started in 2005, the company has been developing SEO and SMM solutions for bloggers, webmasters and SEO agencies. The company's products are SEO PowerSuite (all-in-one SEO solution) and BuzzBundle (search media marketing app). To be in the know of Link-Assistant.Com's news, visit Link-Assistant.Com official website.