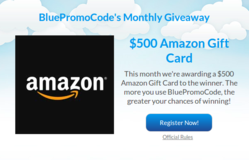 Los Angeles, CA (PRWEB) July 04, 2013
Every month, BluePromoCode hosts a contest giveaway for a high-value prize to reward loyal users and fans. Since the promotions have started, BluePromoCode has given away an iPad mini to Yonnie, and a Samsung Galaxy S4 to Safat, who participated, along with many other fans and followers, on BluePromoCode by liking and sharing BluePromoCode with others. For July, BluePromoCode will be giving away a $500 Amazon.com gift card to one lucky winner.
By submitting valid coupons, Facebook "liking", Google "+"ing, Twitter "tweeting" coupons, and referring friends to the contest, BluePromoCode fans can earn contest entries every day. Previous contestants start off with multiple entries if they have liked BluePromoCode's Facebook page, or subscribed to BluePromoCode's newsletter before. The top ten who make the leaderboard will all have an equal shot at winning the prize. BluePromoCode's monthly giveaway continues to be a fun way for fans and followers to stay on top of saving money with the best coupons and discounts around. Anyone can register for the contest at http://bluepromocode.com/monthly-giveaway.
About BluePromoCode
BluePromoCode is a leading coupon search engine used by millions of consumers to help them save the most money on their purchases. The website partners with 12,000 retailers to bring over 100,000 coupons to its users and its editors hand-check coupon codes to ensure the highest quality ones rise to the top. BluePromoCode also offers personalized emails so members can receive the best deals for the brands they love directly in their inbox. Learn more at http://bluepromocode.com.
About ZipfWorks, LLC
ZipfWorks, based in Los Angeles, is a media lab focused on social commerce. It designs and develops social applications aimed at helping consumers find the products, recommendations, and services they love. With over 12,000 retail partners, ZipfWorks helps bring products to consumers through a network of high-utility social applications such as BluePromoCode, StyleSpotter and Knoji.