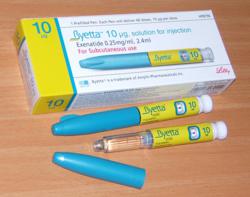 This ISMP report highlights an urgent need to reassess the safety of incretin mimetic drugs.
(PRWEB) July 08, 2013
Worried about the mass of information surrounding incretin mimetic drugs and pancreatic cancer? While there are plenty of scientific studies being circulated, there is a distinct lack of simple, informative advice. That's why consumer injury attorneys Michael J Evans, Gusty Yearout and Lloyd Gathings have set up a new website and created an indispensable presentation for concerned diabetics who have taken these drugs.
Incretin mimetic drugs are prescribed to type two diabetics whose condition is not being controlled by standard medications. Common drugs include Byetta (exenatide), Januvia (sitagliptin), Onglyza (saxagliptin) and Victoza (liraglutide).
The latest QuarterWatch report* from the Institute for Safe Medication Practices (ISMP) found that incretin mimetics are 25 times more likely to be linked to pancreatic cancer than standard medications, and 28 times more likely to be associated with pancreatitis, or inflammation of the pancreas. Data from the U.S. Food and Drug Administrations (FDA)'s adverse events database also showed that the drugs may cause pre-cancerous cell changes, or pancreatic duct metaplasia.
Both the FDA** and the European Medicines Agency have launched probes into the drugs, including possible links to cardiac issues and renal insufficiency, and are expected to release new information following new trials. Many diabetics who developed any of these conditions after taking an incretin mimetic are now taking legal action against the manufacturers of the drugs.
Attorney Gusty Yearout of Yearout & Traylor and attorney Lloyd Gathing of Gathing's Law continue to offer free legal consultations to victims who have suffered from alleged injuries after taking an incretin mimetic. If you or a loved one have suffered pancreatic cancer, pancreatitis or renal insufficiency after taking these drugs, please visit diabetes drug side effects now and let us help.
*http://www.ismp.org/QuarterWatch/pdfs/2012Q3.pdf
**http://www.fda.gov/Drugs/DrugSafety/ucm343187.htm