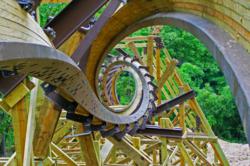 First, let me say that Outlaw run is amazing and if its not a top 5 wooden roller coaster by 2014, I will be shocked.
Branson, Missouri (PRWEB) July 02, 2013
Silver Dollar City's Outlaw Run makes global debut. World's most daring wood coaster launched March 15 .
To purchase tickets online for Silver Dollar City Click Here
International attention focuses on Branson, Missouri as Silver Dollar City debuts a first-of-its-kind thrill ride, Outlaw Run, the world's most daring wood coaster. The park opened for the season and launched Outlaw Run's first riders on March 15. Adventure-seekers on spring break will be among the first to experience the groundbreaking wood coaster. The new $10 million ride sends passengers soaring through the Ozark Mountains on a record-breaking wood coaster that includes several "world's first" attributes: For more Branson information Click Here or call 1-800-432-4202
World's first and only double barrel roll on a wood coaster
A 720-degree (double) barrel roll
World's steepest drop on a wood coaster
More than 16 stories, 162-foot drop at 81 degrees, nearly vertical
World's only wood coaster to twist upside down…3 times!
A record-breaking three inversions
Second fastest wood coaster in the world
Top speed of 68 mph, world's fastest wood coaster on steel wheels
After a year of construction and international monitoring by thrill ride enthusiasts, Outlaw Run opens with the proof that such extreme elements as the double barrel roll can, in fact, be done on a wood coaster. "We wanted to give our guests a new thrill ride like nothing anywhere on the planet," said Brad Thomas, senior vice president, Silver Dollar City Attractions. "This high-tech wood coaster with never-done-before thrill elements raises the bar in the ride world to an all-new level."
Outlaw Run is located in a new section on the western edge of the park. Silver Dollar City, highly awarded for theme development and known for designing attractions with compelling storylines based in real history, presents the setting of an authentic Stagecoach Depot, including a real, full-size stagecoach. In the creative concept, Outlaw Run goes beyond the outskirts of the safe haven of the 1880s Silver Dollar City to a place where civility is waning and outlaws may lurk. Setting out with brave new dreams of vast America, passengers head into untamed territory where at any minute, a wild chase could ensue. But on Outlaw Run, the good guys always win, leaving the bad guys in the dust.
The ride takes advantage of the natural mountain terrain, with a more than 10-story lift that leads to a 162-foot drop (16 stories) into a valley. Custom-designed "stagecoach" trains, fashioned after the iconic Concord stagecoaches of the time period, take riders on a journey of unexpected drops, thrilling twists and rolling inversions. Riders soar through nine locations where they will experience "airtime" – or weightlessness.
Over…
The preservation of the trees and natural landscape is part of Silver Dollar City's lifelong commitment to the environment, with two or more trees planted for every one removed during construction. Plans for the entire area were created to minimize the impact on trees, including location of track and structure, buildings and walkways.
Outlaw Run joins a lineup of popular coasters including the multi-looping steel coaster WildFire and the launch coaster PowderKeg. The park collaborated with Idaho-based Rocky Mountain Construction on the innovative engineering, design and construction of the new ride. Minimum height requirement is 48 inches.
For more than half a century, Silver Dollar City has drawn people from all across the nation. The "City" is an 1880s-pioneering town of winding paths carved into the wooded mountains, with more than 30 rides and attractions, award-winning festivals and entertainment, an authentic crafts colony 100-strong, and the centuries-recognized Marvel Cave that is a National Natural Landmark. Silver Dollar City is the number one attraction in the family vacation destination, Branson, Missouri.