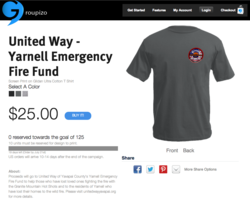 Chicago, IL (PRWEB) July 02, 2013
In response to the recent tragedy in Arizona, Izo Brands is leveraging their group funding platform, Groupizo, to help the United Way of Yavapai County raise money for the Yarnell Emergency Fire Fund. The fund will help the loved ones of those who gave their lives countering the deadly fires in Yavapai Country, which have now burned 8,300 acres of land 80 miles northwest of Phoenix.
A lightning strike Sunday igniting dry brush amongst triple digit temperatures and low humidity turned deadly as winds radically changes, boxing in an elite firefighting squad behind 20 foot walls of flame. The Granite Mountain Hotshots lost 19 out of 20 members fighting the roaring blaze, ultimately succumbing to the blaze despite following safety procedures and deploying emergency fire shelters. The highly trained hotshot crews, each 20 strong, are known throughout the country for engaging the riskiest and most unpredictable fires with their elite skills and incredible courage.
Support the families of the Hotshots with a limited edition Heroes Remembered Granite Mountain Interagency Hot Shot Crew t-shirt. Make your continued support visible with each wear. Never forget the Prescott Fire or the brave men who lost their lives in the line of duty. Contribute to the memory of these elite firefighters as well as the United Way with a custom Heroes Remembered t-shirt. 100% of the profits from the sale of each shirt go directly to the United Way of Yavapai County's Yarnell Emergency Fire Fund.
About Customizo and Izo Brands: With Customizo, Groupizo and Snapizo, Izo is knitting the framework for the future of e-commerce with a multi-faceted set of innovative product customization and design tools, a unique group collaboration interface, and mobile media distribution applications. Izo's mission is to be the most customer-centric, creative, and innovative company in the custom apparel and promotional products industries.