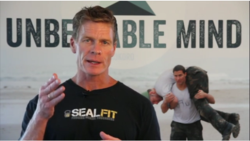 "I'm dialed into my daily activities and already seeing some good positive changes. The visualization has been good and helping me prepare for my upcoming climb on Rainier." - Brett Sisler
San Diego, CA (PRWEB) July 03, 2013
Thomas Jefferson had it right when he said, "Nothing on earth can stop the man with the right mental attitude from achieving his goal." Mental toughness plays a more important role than anything else for achieving goals in health, business, and life. Don't mistake it for a new fitness fad. This training has been used to take athletes, business leaders, the U.S. Military, Navy SEALS, and many other to new levels of performance for decades.
Whether running for office, running a marathon or training senior business leaders through a period of expansion, motivation and determination are key. Those who are deemed mentally tough typically exhibit what sports psychologists call "intrinsic motivation." People who are intrinsically motivated are self- starters who need little encouragement to give their best effort, to set goals and to work towards their goals. Needless to say, this doesn't describe everyone, but with the help of one San Diego local it could.
Retired Navy SEAL, Mark Divine works with thousands yearly all over the world to achieve mental toughness. Divine created the easily accessible, online, Unbeatable Mind Academy (UM) which encompasses the full spectrum of human experience – Body, Mind and Spirit in Self, Team, and within Organization. Lessons learned via UM are uniquely effective at elevating clients to a higher level of operating, thinking and leading. See what some of the students of UM have to say:
"Life changing!" - Mike Cazayoux of Ute Crossfit Team (First Place CrossFit Games 2013 Regionals)
"I'm dialed into my daily activities and already seeing some good positive changes. The visualization has been good and helping me prepare for my upcoming climb on Rainier." - Brett Sisler
"I have been doing the block breathing you recommended, as well as using the powerlung, and I have been having positive results with my jiu jitsu with just the ability to stay focused, relaxed and in control of my breathing." - David Ray
Motivation is fickle. Willpower comes and goes. Mental toughness is about habits, not motivation. Train habits to be prepared for everything and in turn be ready for anything. This is exactly what the Unbeatable Mind Academy strives to do. It prepares for mental strength, mental control and overall mental toughness. It's always better to be prepared and now anyone can train their brain with this online program that can be taken remotely anywhere in the world. Register before August 31, 2013 for even more of a deal with our promotional summer discount at http://www.unbeatablemind.com/promo/.
More on Mark Divine: With an MBA from NYU Stern School of Business and a CPA in his briefcase, Divine learned the majority of his good Leadership skills when he became a Navy SEAL officer. Divine then started his career as an entrepreneur and is now running a successful SEALFIT Campus in the heart of downtown Encinitas. Among many accomplishments, Divine pursued a PHd in Leadership at the University of San diego and has served as an Adjunct Professor of Leadership in their undergraduate school. Read Mark Divine's bio here.
Tweet This Release: #MentalToughness is readily available for anyone via @SEALFIT inspired Unbeatable Mind Academy online: Summer Promo http://bit.ly/15POUgR.