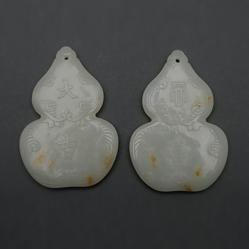 (PRWEB) July 03, 2013
Michaan's Fine Asian Works of Art Auction held on Sunday, June 23, 2013 was a phenomenal success, drawing buyers from around the globe. Grossing over $4,670,000, it commanded the highest sales figure ever seen at the auction house, with floods of Internet, phone and absentee bids. The total was due in large part to another phenomenon in its own right, listed as lot 3080 in the sale. An exceedingly rare and important soapstone figural carving centering Qing dynasty imperial porcelain kiln supervisor Tang Ying was far and away the star of the auction. Expectations ran high for the work of art, as it was the highest estimated lot of the sale at $100,000-150,000. As bidding commenced for the piece, people rose from their seats amongst a standing room floor audience of well over 100 attendees, while all phone banks were busy with calls. Two online bidding stations took note of the activity as calls poured in from around the world. Heavy floor and phone bids pushed the selling price to $2 million, closing with a victorious phone bid and a round of applause. The carving broke auction records as it realized a price of $2,360,000, becoming the highest selling Asian soapstone carving ever auctioned in the U.S. as well as Michaan's highest single selling lot to date. Asian Art Specialist Harry Huang remarked that the sale "...greatly exceeded my expectations. I believe that this work of Tang Ying will continue to be a powerful force in the world marketplace. I also think that this auction speaks volumes on the explosive state of the current Asian antiquities marketplace; what appears to be its very bright future is a thrilling prospect for Michaan's Auctions."
Categorically, fine jade carvings dazzled at auction, with a substantial list of monumental successes found in the offered lots. Two jade double gourd-form pendants performed amazingly well, as they astonishingly sold for over 53 times their high estimate (lot 3027, $1,500-2,000). The pendants closed at $106,200, garnering expressions of elation and awe. The pair of pendants top a lengthy list of 15 additional carved jade lots to sell from over 5 times to over 33 times projected high values. Additional honorable mentions from the astounding jade sales include two phoenix plaques at $64,900 (lot 3014, $2,000-3,000) and two figures of pigs at $50,150 (lot 3074, $1,000-1,500). Three jade lots also managed to realize a price of $44,250 each, greatly exceeding their estimates. The shared figure was seen in groupings of two rectangular white jade pendants (lot 3008, $2,000-3,000), four animal carvings (lot 3020, $1,500-2,000) and three white jade bird carvings (lot 3033, $4,000-6,000).
Chinese paintings were another section of the auction to hold top performers. A new international record was established by a hanging scroll titled "Mountainous Dwellings" by Li Yin (lot 3217, $25,000-35,000). The piece realized a world record-breaking price of $112,100, becoming the highest figure ever achieved at auction by a Li Yin work. Rounding out the impressive lots in the category was a collection of fan paintings and calligraphy by various artists that sold for $76,700 (lot 3218, $30,000-50,000), a hand scroll after Li Tang depicting figures on horseback for $56,050 (lot 3206, $3,000-5,000) and an anonymous album of three paintings realizing a price of $50,150 (lot 3209, $2,000-3,000). A 14th century album of twelve paintings attributed to Wang Yuan (lot 3210, $6,000-8,000) and a landscape hand scroll in the style of Wen Boren (lot 3212, $4,000-6,000) each brought $47,200 as well. In addition to the substantial figures that these painting selections brought, the section also proved to be a formidable platform in obtaining solid numbers for lesser known artists. Examples are found in an ink and color on paper hand scroll after Xu Longjiu (lot 3208, $5,000-7,000, sold for $10,620) and Zhong Hui's album of ten paintings sold as lot 3225 ($1,200-1,800, sold for $5,900).
Handsome figures were also seen across numerous Asian art disciplines held in the sale. A Tibetan cloisonné enamel ewer and cover from the Qianlong period surpassed its $20,000-30,000 estimate at $53,100 (lot 3150). Multiple ceramic offerings saw fruitful numbers, as evidenced in a pair of famille rose porcelain plaques (lot 3310, $5,000-7,000, sold for $32,450), a famille rose vase of the Guanxu mark and period that sold for over 13 times its high estimate (lot 3292, $1,500-2,000, sold for $26,550), yet another famille rose offering in a pair of 19th century vases (lot 3294, $3,000-5,000, sold for $26,550) and a pair of enameled-porcelain plaques signed "Zou Guojun" (lot 3311, $4,000-6,000, sold for $26,550). A pair of hardwood armchairs with marble insets was another lot to realize $26,550, as it sold for over 8 times the projected high value (lot 3178, $2,000-3,000).
Numerous private collection offerings in the auction produced excellent sell-through numbers, as did the entire sale at an over 84% sell-through. A largely jade based, private San Francisco collection saw a 100% sell-through of its 44 lots, as did a prominent collection once owned by Senator Theodore Francis Green. A collection of Chinese silk fan paintings from the Reynold Tom Collection sold out as well, as did the entire painting collection of Mr. and Mrs. Edward W. Tom.
Michaan's Auctions Vice President and Chief Operating Officer Scott Bradley acknowledged the impact and scope of the sale. "This Asian auction has established itself as the largest and most significant event in our company's history thus far. The sale of the Tang Ying carving was the largest single sale I have presided over in my career. It has been a thrilling and exciting time to say the least."
Complete results for the Fine Asian Works of Art Auction as well as future sale information and bid submission is available online at http://www.michaans.com. Michaan's Auctions is located at 2751 Todd Street, Alameda, CA 94501.
About Michaan's Auctions
Michaan's Auctions is a leading full service auction house on the West Coast. Specializing in the appraisals and sale of antiques and fine art, Michaan's has specialists in the fields of Furniture and Decorative Arts, Modern, Contemporary Art, European and American Paintings and Prints, Jewelry and Asian Works of Art.
Established in 2002, Michaan's Auctions holds up to thirty sales each year attracting a broad base of buyers and consignors from all over the world. With one of the largest facilities in Northern California and the Bay Area's lowest buyers premium Michaan's offers buyers and sellers the opportunity to preview and bid on many unique and desirable property. Some of these pieces realized world record prices. In 2005 A.D.M. Cooper's oil painting, Three Graces 1915, sold for a record $21,060 and an Eduard Gaertner oil, German City Street Scene 1831,sold for $266,000.
Michaan's has built its reputation on its ability to accept single items, groups or entire estates with its "no risk consignment policy" free of hidden fees and charges. Michaan's specialists are dedicated to staying current on the latest issues and developments in the market and are committed to providing personalized and professional attention throughout the entire auction process.
For a full listing of upcoming auctions or to view a complete catalog, please visit http://www.michaans.com.