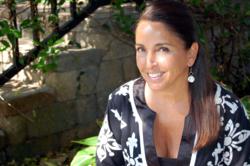 "I can say with certainty that food addiction is treatable." Lisette Cifaldi, H3 Director of Behavioral Health
Hilton Head Island, SC (PRWEB) July 05, 2013
F.A.R. is a three-day workshop led by H3's Director of Behavioral Health, Lisette Cifaldi, MSW, LMSW. Having experienced a 50 pound weight loss and maintenance, Cifaldi joined the H3 team knowing that she would have the opportunity to help others recognize, understand and take action against the addiction she once faced herself.
"People don't recognize food as an addiction since it is vital to life—and for that very reason, people don't know where to go or how to handle their feelings towards food," says Cifaldi. "I have found that those who struggle with food embrace the term 'food addict' despite its misplaced negative connotation."
Cifaldi has designed a ground-breaking workshop that unveils the realities of food addiction beginning with a discerning look at the symptoms, newly surfacing brain & behavioral science, and contributing cultural trends. Through lectures, group discussion and an opportunity to practice newly learned strategies, participants will gain insight into what food addiction is, how to reconnect with food, attain tools for managing it and much more. Sample session topics include: What is Food Addiction, Anatomy of Food Addiction, Getting Honest and Gaining Insight, Intuitive and Mindful Eating and Making Amends to Your Body.
Cifaldi says, "Food addiction can be regarded as a flaw in the brain reward system, just like any other addiction, and can be managed quite successfully just like diabetes or heart disease. At fifty pounds lighter for six years now, I can say with certainty that food addiction is treatable."
The F.A.R. workshop sample schedule and program flyer are available on the Hilton Head Health website. For more information on any Hilton Head Health's workshops or weight loss program, call (800) 292-2440.
About Hilton Head Health:
For over 35 years, Hilton Head Health has been recognized as the premier weight loss and health retreat in the United States. Most recently, Hilton Head Health was featured on A&E's weight loss docudrama HEAVY, which aired in spring 2011. Voted as "Best for Weight Loss" for the past five consecutive years by SpaFinder and "Top 5 US Health Spas" by Lisa Drayer on the Today Show, Hilton Head Health is an exclusive resort delivering individualized experiences in the areas of Fitness, Nutrition and SELF (Stress management, Empowerment, Longevity, Fulfillment). For more information, call 800-292-2440.