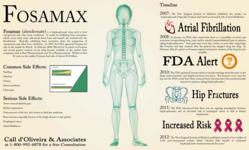 (PRWEB) July 03, 2013
Fosamax (alendronate) is a drug that is used to treat bone conditions like osteoporosis. This drug is included in the bisphosphonate class of drugs which slow the process of bone loss. It was first approved by the FDA in September 1995. In December 2009 NPR reported that Fosamax has been a blockbuster drug for its manufacturer Merck with sales peaking in 2005 at almost $3.2 billion in sales (i). Since Fosamax's approval in 1995, the FDA has issued two important warnings about the drug. In January 2008, the FDA warned that there is a "possibility of severe and sometimes incapacitating bone, joint, and/or muscle (musculoskeletal) pain in patients taking bisphosphonates." The Agency found that this pain can persist even though the patient has stopped taking the drug (ii). In March 2010, the FDA updated the drug's warning label to include information about to the thigh, specifically subtrochanteric and diaphyseal femoral fractures. The Agency stated that "these unusual femur fractures have been predominantly reported in patients taking bisphosphonates" (ii).
Bone injuries have been the most common adverse event reported by patients taking Fosamax. According to the May 2011 QuarterWatch from the Institute for Safe Medication Practices, the FDA has received at least 1,177 adverse event reports regarding Fosamax. 195 incidents were reported directly to the FDA and 982 incidents were reported by Merck (iii). The January 2011 edition of QuarterWatch also included information about Fosamax stating that at least 126 cases of femur fractures had been reported and 53 cases of osteonecrosis of the jaw (iii). These two complications are now the subject of two multidistrict litigation (MDL) actions. In total 1,075 lawsuits alleging femur fractures were consolidated into an MDL (In re Fosamax Products Liability Litigation, MDL No. 2243). An MDL was also established for 1,119 lawsuits alleging osteonecrosis of the jaw (In re Fosamax Products Liability Litigation, MDL No. 1789) (iv).
The firm's founding attorney, Paul d'Oliveira stated, "These lawsuits allege that patients were taking Fosamax without any warning and that they were exposing themselves to an increased risk of bone fractures and osteonecrosis. We have released the new informational graphic in order to provide patients with a list of possible Fosamax side effects as well as provide information on FDA warnings and medical studies about the drug." Visit the Fosamax webpage and view the Fosamax infographic. d'Oliveira & Associates works solely in the areas of personal injury and Social Security Disability law. The law firm has been investigating the safety of drugs like Fosamax and it currently works with some of the more experienced lawyers who handle these cases. To contact the firm visit good-legal-advice.com or call 1-800-922-6878.
(i) NPR "The Creation Of A Blockbuster Drug," December 21, 2009.
npr.org/templates/story/story.php?storyId=121585433
(ii) FDA Warnings, January 7, 2008, March 10, 2010.
fda.gov/drugs/drugsafety/postmarketdrugsafetyinformationforpatientsandproviders/ucm124165.htm
fda.gov/Drugs/DrugSafety/PostmarketDrugSafetyInformationforPatientsandProviders/ucm203891.htm
(iii) Institute for Safe Medication Practices, QuarterWatch.
http://www.ismp.org/quarterwatch/pdfs/2011Q4.pdf
http://www.ismp.org/quarterwatch/2010Q2.pdf
(iv) U.S. Judicial Panel on Multidistrict Litigation, May 14, 2013.
http://www.jpml.uscourts.gov/sites/jpml/files/Pending%20MDL%20Dockets_By%20District_May-14-2013.pdf