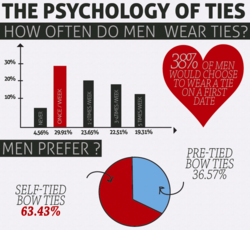 Men who wear ties at least 5 days a week are 3x as likely to earn in access of $200K per year compared to those who who wear ties less than twice per week
San Francisco, CA (PRWEB) July 03, 2013
Online neckwear retailer Bows-N-Ties.com recently surveyed 1,184 men and women to find out more on how wearing ties affects a man's career and personal life. When it comes to dating for instance, the survey shows that women respond more favorable to "over-dressing" than to dressing too casual. Of the 387 women who participated in this survey, 19.6% said that they would be very attracted to a man dressed in suit and tie on a first date, compared to just 5.2% who would be attracted to a man dressed in casual shorts and T-shirt. "We really had fun analyzing the results," says the site's founder Hendrik Pohl who studied marketing and economics at Santa Clara University and whose father holds a PhD in statistics.
In the survey, men and women were asked two different sets of questions. Men for instance were asked on the frequency they wear ties, what their approximate annual income is, as well as how they would most likely dress on the first date. Women were asked things like what outfit they would be most attracted to on a first date. While the sample size taken is quite large, and the results show with a 95% confidence interval and a small margin of error, the statistics are to be read with caution.
In a discussion on a popular men's fashion and lifestyle board, forum members questioned if it is indeed the necktie that causes men to be professionally more successful. While this can't be answered by the survey, Pohl argues that "for a good reason the saying 'Dress to Impress' exists. I have always been a believer that dressing well can only help in life, and the survey rather supports this than proofs otherwise. In any way you look at the statistics, the more often a man wore a tie, the higher his income. Men who wear ties at least 5 days a week are 3x as likely to earn in access of $200K per year compared to those who who wear ties less than twice per week," states Pohl.
Besides just having some fun with the survey and the results which the retailer displayed via this infographic, the findings are also helpful for the retailer's merchandizing team. "We were a bit surprised to find out that men actually prefer self-tied bow ties much more than the more convenient pre-tied styles," says Pohl. "This has forced us to take another look at our product offerings. After seeing the results we decided to further expand our self-tied bow tie line by at least 30% over the next 2 months."
For more information about the survey as well as the results, please contact Hendrik Pohl directly at Bows-N-Ties.com.