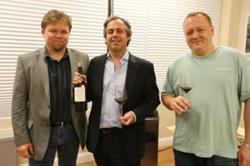 Vienna, VA (PRWEB) July 04, 2013
Classe Wines has recently received a shipment of 2009 Dona Matilde Douro Vinho Braco, a fine Portuguese White Wine that received a bronze rating in the 2010 international challenge. It is being made available for sale to the public in limited quantities. It is an ideal addition to the collections of all enthusiasts for Portuguese White Wine, and is expected to continue aging well for an extended period of time.
2009 Dona Matilde Douro Vinho is a crystal clear Portuguese white wine that is crystal clear in color. Tasting this wine reveals its intense and powerful aroma that includes a blend of citrus fruit and melon, passion fruit mixed with the smell of fresh rainwater that has just fallen during the day. The experts who were tasting the wine also said that they found there to be a hint of jasmine in the aroma. The delicate nature of Jasmine flowers, which only open at night, is perhaps a strong metaphor for the unique aroma of this exclusive Portuguese White Wine. The taste is earthy and has mineral notes, and the acidity is balanced perfectly, making this wine enjoyable for social occasions as well as a desirable addition to the collections of enthusiasts for Portuguese white wine.
This wine's unique aroma and taste is a reflection of both the region where it is grown and the skill of the winemakers at the family-owned Dona Matilda Farm. This farm is a winery that was founded in 1927, and named in the honor of Dona Matilda, the wife of founder and family patriarch Manoel de Barros. Previously, the winery had been named Quinta do Enxodreiro. It is still run by one of the descendants of the founders, grandson Angelo Manuel de Barros, who runs the winemaking and marketing operations along with his children. The family owns 70 acres of vineyards in addition to the other 230 acres on their farm. The family's vineyards have earned a grade of A, which is the highest grade that wineries within the Douro region can receive.
The winery is located on the banks of the Douro river, and the Douro river region is considered by many wine experts to be Spain's finest wine growing regions, and it is one of the oldest in Europe. In recogition of its distinction in winemaking, the entire Douro River region received a UNESCO designation as a World Heritage Site in 2001. The region's summers are hot and not humid, and its winters are cold. While the region was originally known for red wines, a number of white wines, including 2009 Dona Matilde Douro Vinho Branco, have come to be cultivated here.
Classe Wines is making this exquisite Portuguese Wine available for sale to the public for a price of $26.95 per bottle. Half cases, which have 6 bottles, are available for $158.47, while cases with 12 bottles are available for $313.70. To order this exclusive Portuguese wine visit classewines.com or call 1-800-793-9141 today.
Contact
Georgiy Karchenko
1-800-793-9141