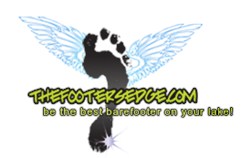 The Footer's Edge is now offering high quality barefoot water skiing equipment and a complimentary E-book that makes barefooting easy to learn at http://www.thefootersedge.com.
Winter Haven, Florida (PRWEB) July 02, 2013
Barefooting is taking the world by storm, teaching how to water ski barefoot. And now thanks to The Footer's Edge Barefoot Boom anyone can learn how to barefoot water-ski and become the best barefooter on the lake. The Footer's Edge, suppliers of the highest quality water skiing equipment on the market, is now offering their Barefoot Skiing eBook, a comprehensive 170-page barefooting tutorial, for free!
With the Footer's Edge Barefoot International Water ski Boom anybody can learn how to waterski, wakeboard, or barefoot water ski without falling! The Barefoot Boom can be used to teach any one from 4 year olds to 400 pounds and has even been used by celebrity clients such as Mitt Romney and Tony Robins. The Barefoot International Boom is the hands down best way to learn how to water-ski.
The Footer's Edge guarantees that the Barefoot International Boom is the world's best Barefoot waterskiing boom, at the best price, and guarantees that it will fit their customer's boats – or they'll buy it back.
The Barefoot International Boom is truly a stand out from other booms on the market. All Water ski booms are not created equal and there are many myths to avoid when purchasing one.
Myth number 1: The lighter the boom, the better it is because it is easier to set-up and take down.
Truth about boom weight: Boom weight is determined by the construction. Lighter booms are constructed out of hollow tubing. What you want to look for is solid aircraft aluminum construction. Barefoot booms are subjected to a tremendous amount of pressure when used for teaching.
The most important consideration for booms is safety and nothing short of a solid boom is acceptable. In addition, solid booms do not spring back as much when a larger or strong person slips off the boom when they fall.
Myth number 2: One cable connected to the bow is better than two.
Truth about boom cables: Safety, safety, safety. The Footer's Edge has tested every boom on the market. When a boom cable breaks because of construction, it is a terrifying moment whether a skier is attached or not. Two stainless steel cables going from the boom all the way to the point of attachment provide maximum security and safety.
Myth number 3: Quick release boom clamps with the lever and moving parts are better.
Truth about boom clamps: After testing every boom clamp on the market, the quick release clamp takes about 30 seconds to adjust while Barefoot International boom clamps takes about 15 seconds longer. The Footer's Edge found that after hundreds of adjustments, the flexing of the quick release clamp causes it to weaken because the lever and moving parts loosen. On the other hand, Barefoot International boom clamps provide the best connection with the ski pylon with no deterioration over time.
By far the biggest consideration in a barefoot boom is safety. By buying the Barefoot International boom, skiers can then concentrate on learning and teaching others to ski. Barefoot International booms are now being used to teach children and adults alike to kneeboard, combo ski, wakeboard, slalom, and barefoot.
In addition to high quality products such as the Barefoot International Boom, Footer's Edge website offers free tutorial and product guides on many topics including waterskiing, wakeboarding, and barefooting. Footer's Edge can be contacted at (877) 685-6270 ext. 8, direct at (863) 268-0111 or online at http://www.thefootersedge.com.