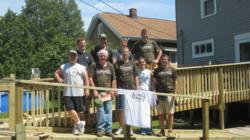 "The ramps the teams completed gave the homeowners not just simply a way out, but it gave them freedom they hadn't previously had, and we would not have been able to do this without NNC helping out on this project." - Mike Zamarron, Home Repair Services
Grand Rapids, MI (PRWEB) July 03, 2013
On June 22 and 27, National Nail Corp. (NNC), headquartered in Grand Rapids, Mich., volunteered time and their CAMO Fastener and Pro-Fit® Packaged Nail & Screw products to participate in Community Repair Day by building two wheelchair ramps. Community Repair Day is a collaboration between the Home Builders Association of Greater Grand Rapids and Home Repair Services of Kent County.
NNC volunteers tackled the 250sq.ft. and 170sq.ft. wheelchair ramps at two homes in the Grand Rapids area. Volunteers used new CAMO Hidden Deck Fastening System technology on the top deckboards, as well as CAMO Structural and CAMO Premium Deck screws and Pro-Fit® deck screws for other parts of the ramp.
"On the ramp build sites that National Nail Corp. completed for us, there was a very obvious need for the homeowners—without the ramps, they were not be able to get in and out of their houses without significant assistance from someone else," said Mike Zamarron, of Home Repair Services. "The ramps the teams completed gave the homeowners not just simply a way out, but it gave them freedom they hadn't previously had, and we would not have been able to do this without NNC helping out on this project."
The mission of Home Repair Services is to build successful, sustained homeownership for lower-income families, thereby strengthening neighborhoods and communities throughout Kent County, Mich.
CAMO for a CAUSE is a new community outreach initiative developed by National Nail Corp., named after their innovative and popular CAMO products. The goals for the program are for NNC employee-owners to become intentional about community involvement, to make a positive difference using NNC building products and to strengthen NNC internal employee relationships through these events and opportunities. To submit ideas for future CAMO for a CAUSE opportunities, please call 1-800-968-6245 ext. 2134 or email taylor_running(at)nationalnail(dot)com.
National Nail Corp., headquartered in Grand Rapids, Mich., is an employee-owned manufacturer and distributor of high quality, innovative building products and service solutions for the residential and commercial construction industries. National Nail brands include CAMO Fasteners, Pro-Fit® Fasteners, STINGER® Cap Systems and Impressions Storm Doors and Windows.