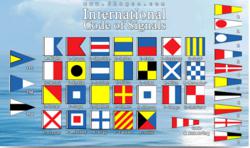 ...a complete supply of international code of alphabet signals...or one that signals cocktail hour.
Atlanta, GA (PRWEB) July 09, 2013
Accidents do happen yet many water-related mishaps or catastrophes can be avoided by simply observing posted nautical flags that signal danger, imminent bad weather, or a cry for help—proven time-honored practices and items that still have their place today and are now fully stocked for the summer season at The Flag Company, Inc.
Sailors can find a complete supply of the international code of alphabet signals in flag or pennant format. Storm warning (gale or hurricane) flags and pennants that come in handy for marinas, lifeguard stations, and even Coast Guard stations are sold separately or as a set. Mounting choices range from brass snaps and rings, to ash toggles and brass grommets in a variety of flag sizes from 1' x 1.25' up to 4' x 6'. There are also several choices in pennant sizes.
Officers' flags, including chaplain and commodore, to port captain and more fill out the selection along with ensign and merchant flags, courtesy flags (signaling absence, quarantine, skin divers, regatta race protest, and race committees). For a fun and light-hearted gift, consider a Jolly Roger skull-and-bones flag, or one that signals cocktail hour.
All flags and pennants, constructed of sturdy nylon with canvas headers and brass grommets and priced affordably, make a strong stand in changing weather.
About The Flag Company, Inc.
As the largest online flagpole supplier, The Flag Company, Inc. offers a complete range of flags and flag-related products in addition to its line of flagpoles and signature Flagpole Beacon. Custom screen-printing and digital printing are available for special events, corporate logos, etc. Stock merchandise includes U.S., state, international, and military flags, and all types of accessories such as bunting, memorial cases, pennants, and more. The Flag Company, Inc. is the nation's largest producer of message flags, offering over 300 different messages used by realtors, restaurants, car dealerships, and any other kind of company imaginable. Toothpick flags—both stock and custom-made to order— are also available. The complete product line can be viewed at http://www.flagco.com. "Feel Good Light-Ups," a decorative light lens for fluorescent light fixtures, are now so popular there is a dedicated website at http://www.feelgoodlightups.com. Flagpoles and Flagpole Beacons are featured at http://www.flagpolewarehouse.com. Toothpickflag.com has a wide selection of toothpick flags for any occasion, party or corporate event, with a custom department for that one-of-a-kind special design.