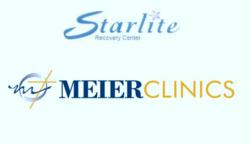 Center Point, Texas (PRWEB) July 08, 2013
Starlite Recovery Center, the longest running free-standing chemical dependency treatment center in Texas, has announced a new specialized Christian track called "The Journey" in collaboration with Meier Clinics. Beginning July 1, The Journey will provide each patient with a certified Christian counselor, and group and individual sessions with a faith-based approach.
"We are excited to announce this new track, realizing just how important faith is to many of our patients," said Amy Swetnam, MS, LPC, LCDC and Executive Director of Starlite. "The Christian Track enhances our already outstanding treatment services, and partners us with one of the nation's most respected, well-known faith-based healthcare organizations, Meier Clinics."
Patients in The Journey Christian track will join weekly process groups based on the Meier Clinics' "Journey to Joy Workbook." Established in 1976, Meier Clinics is a non-profit organization that integrates biblical-based, Christian beliefs with evidence-based, psychological principles to treat the whole person emotionally, physically, and spiritually. It is now the nation's largest Christian mental health provider, with 20 programs in nine states.
In addition to the workbook, The Journey will include meditation and daily journaling, Celebrate Recovery and AA/NA meetings, and allotted time for bible study and meetings with chaplains throughout the week.
"We are very pleased to announce this new track with Starlite Recovery Center," said Dr. Paul Meier, founder of Meier Clinics. "Starlite is an excellent treatment program, and we are excited to collaborate with their great staff in launching The Journey to serve those looking for Christian care in the recovery process."
Meier Clinics has created similar tracks for other facilities within CRC Health Group, Starlite Recovery Center's parent company, and both entities look to expand the successful relationship further.
For over five decades, Starlite Recovery Center has offered clients an unmatched natural environment in which to recover from the devastating effects of drug addiction and alcoholism. With a professional, interdisciplinary staff of physicians, counselors and nurses, and a focus on innovative chemical dependency treatment, Starlite provides the individualized therapeutic structure essential for a client's lasting recovery success. Starlite Recovery Center is accredited by the Commission on Accreditation for Rehabilitation Facilities (CARF) and licensed by the Texas Department of State Health Services. Starlite also is a certified TRICARE provider. For more information, visit http://starlite.crchealth.com/ or call 800-292-0148.
Starlite Recovery Center is a member of CRC Health Group, the most comprehensive network of specialized behavioral healthcare services in the nation. CRC offers the largest array of personalized treatment options, allowing individuals, families and professionals to choose the most appropriate treatment setting for their behavioral, addiction, weight management and therapeutic education needs. CRC is committed to making its services widely and easily available, while maintaining a passion for delivering advanced treatment. Since 1995, CRC has been helping individuals and families reclaim and enrich their lives. For more information, call 877-637-6237.