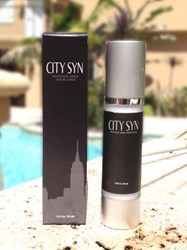 Los Angeles, CA (PRWEB) July 04, 2013
City Cosmetics just released City Syn, an anti-aging skin smoothing serum that hydrates and protects your skin by using an advanced blend of age-defying ingredients designed to mimic the effects of viper venom.
City Syn has revolutionized the way we treat wrinkles through the use of SYN-AKE, a rare form of synthetic snake venom. By mimicking the reactions that cause muscles to move or contract, this serum effectively reduces the look of lines and wrinkles, providing the ultimate skincare experience, without the pain or risk.
Fast acting and long lasting, City Syn is infused with SYN-AKE peptides to increase skin elasticity, reduce muscle cell contraction and promote firmer, smoother skin and decrease the depth and visibility of surface wrinkles. Cheryl Cole, Kate Moss, and Victoria Beckham have all reported to use SYN-AKE as a part of their beauty regime.
City Syn is also infused with aloe lead extract to replenish your skin's moisture and improve its natural firmness, as well as extracts from the Ginkgo Biloba tree, which contain antioxidants that help reduce the effects of aging by protecting against free radical damage.
City Syn has a powerful combination of anti-aging and skin protecting benefits to reduce the visible signs of aging. City Syn helps to boost collagen levels, increase skin elasticity and smooth out lines and wrinkles by utilizing the most advanced skin care ingredients. In SYN-AKE clinical trials, there was an incredible reduction of surface wrinkles, by 52%. In only 28 days, the skin surface becomes smoother with an overall reduced appearance of wrinkles.
Any and all skin types can benefit from City Syn's revolutionary formula to combat and prevent the visible signs of aging. City Syn can be used either during the day or in the evening, but for optimal results it is recommended for use at night before bed. Only a small amount is needed to cover the entire neck and face. Upon application your skin feels tighter and firmer, and skin tone and clarity is improved. Full results can be seen within 4 weeks.
City Syn is naturally formulated, hypoallergenic AND non-acnegenic. This means that not only will it not irritate your skin, but it will deliver all its benefits safely and without clogging your pores.
No snakes were used or harmed in the making of this product. All of City Cosmetics products are cruelty free and not tested on animals.
Available at CityCosmetics.com.