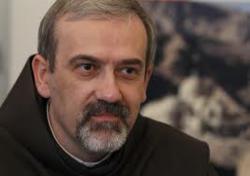 to learn and to teach how to cooperate and to live together, that is the real education.
(PRWEB) July 03, 2013
Fr. Pierbattista Pizzaballa has been reappointed and confirmed for another three-year term as Custos of the Holy Land. This confirmation, an unusual third-straight term, first had to be chosen by the Franciscans and then approved by the Holy See. Fr. Pizzaballa, OFM, having been nominated and approved will now serve until his term ends in 2016.
Richard Sontag, director of the Franciscan Foundation for the Holy Land, recently interviewed Fr. Pizzaballa who serves as Chairman for the Foundation and asked him what he sees as the greatest accomplishment of his then nine year term.
Fr. Pizzaballa started by saying that nine years ago he naively had too many goals. Through his time as Custos, he had found that there were many things to do but there were also many things that he could not do. So he felt that he needed to better qualify the things that could be done.
He said, "The first thing is education."
Fr. Pizzaballa himself is well educated, having received a bachelor's degree in Theology from the Pontifical University in Rome as well as completing further studies at the Studium Biblicum Franciscanum where he received his licentiate in Biblical Theology. He subsequently obtained a Master's degree from the Hebrew University of Jerusalem.
He was also a professor of Modern Hebrew at the Franciscan Faculty of Biblical Sciences and Archaeology in Jerusalem.
He said that it is critical for Palestinian Christians to get an education if they want to get a decent job and therefore be able to stay in their homeland. But even more importantly he added, "The main challenge is to learn and to teach how to cooperate and to live together, that is the real education."
He went on to say, "The solution is not integration." He continued, "Integration does not work because there are real differences between the Muslims, the Christians and the Jews that are not going to disappear." He added, "The goal is co-existence - living together with others who have their own identity but at the same time building relations - positive relations with them."
He explained that the Middle East has always been a place where Muslims, Christians and Jews live together, sometimes well and sometimes with problems. Prejudices, fears, history, all these things are there.
"But," he added "this is part of our life as well as our future." He felt that the real work is to educate in order to overcome the emotional reactions to the differences.
He pondered that perhaps the Middle East is best equipped to teach these concepts to the Western countries who are now facing new challenges of intercultural, inter-religious societies.
He said, "We see the tensions, inter-religious tensions, sometimes intercultural tensions but it is important for a culture to see, in our schools for instance, Muslims, Christians and also Jews are all there."
Proudly he added, "They are all learning, teaching together."
So could it be that the Middle East, in spite of all its problems, is showing the rest of the world that it is possible to make it work.
Fr. Pizzabballa stated the importance of the work of the Franciscan Foundation for the Holy Land in all of this. He said, "Stability is very important for the Middle East and the Foundation, which was established by the Custody in 1994, has been a stable source of support that has enabled the Franciscans to better understand and identify the real needs of the Christian communities and to develop programs that address those needs in a real and tangible way."
As Custos, Fr. Pizzaballa is also responsible, in part, for the 285 Franciscan Friars who are active in a variety of works for the Franciscans.
The Franciscan Foundation for the Holy Land is very thankful for the love and care that Fr. Pizzaballa has given and will continue to give to his fellow Franciscans as well as the Palestinian Christians in the Holy Land - the living stones. His work towards preserving a Christian presence in the Holy Land continues, at least for another three years.